Smokey Joe's Café is Smokin' Hot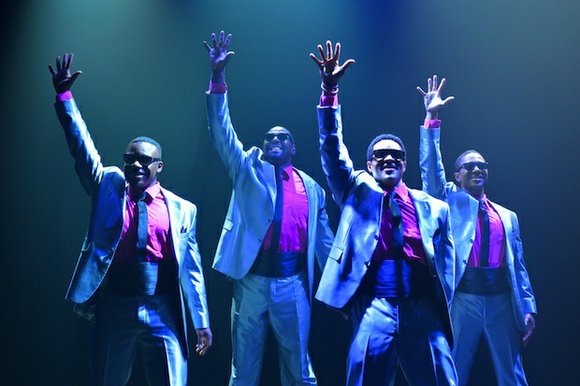 TUTS (Theatre Under the Stars) decision to showcase Smokey Joe's Café at miller was a great one. Smokey Joe's café is a musical revue made up of legendary song-writing duo, Jerry Leiber and Mike Stoller's most popular songs. You may wonder what is exactly is a Revue, and a Revue -the French word for Review is a type of show or any form of entertainment featuring skits, dances, and songs strung together by a theme. The theme in TUTS production of "Smokey Joe's Café" revue is clearly smokin' hot Music.
If you are familiar with legendary songwriters Leiber and Stoller you know that these talented duo wrote or co-wrote over 70 chart music hits. They were inducted into the Songwriters Hall of Fame in 1985 and the Rock and Roll Hall of Fame in 1987. If you aren't familiar with them then you undeniably know their music and the TUTS cast of Smokey Joe's Café does an incredible job of performing these hits with incredible talent, range, and vocal ability.
Smokey Joe's Café features a nine-member cast that includes four women and five men and around 40 musical hits and showcase great music from a variety of genres the show was filled with soul, gospel, jazz, rhythm and blues, and classic Rock and Roll.
If you are a true music fan then expect to hear a variety of hit classics including Yakety Yak, Hound Dog, Love Potion, Jail House Rock and Stand Bye Me -many of these performances were all audience favorites. The cast did an excellence job keeping the audience entertained with hilarious bits before and after each song and with such great music for everyone this show definitely made an entertaining night.
A real stand out from the cast was Carrie Compere who is a true vocal powerhouse, and she brought the house to their feet with her emotion riddled solo performances of Fools Fall in Love. Carrie's has strength to her voice that just lifts you up and soothes your soul all at the same time. She was quite the comedian in Dance with Me – as she tried to dance and seduce her fellow castmates. Other audience favorites included her spunky performance in Hound Dog and her soulful gospel –filled, church rendition of Saved.
Tony winner, Tracy Beazer was just as amazing throughout the entire production as well and she captivated the audience with in her sultry vocals and sexy performance in Don Juan, she also dazzled the audience with her smooth- buttery vocals in musical numbers Your the Boss and Some Cats Know. The men were just as talented and could match the vocal ability and smooth dance moves of any Motown quartet. Carl Clemons, Rhett George, T.Oliver Reid and Devin Roberts are performers are all notably Broadway experienced performers. Carl Clemon's buttery deep bass voice remarkably stood out and also Devin Roberts's vocal and dance ability was truly astounding as well. The way the guys harmonized together in Poison Ivy and in Keep on Rolling made both performances personal favorites.
Last but not at all least, local favorite Brook Wilson whose powerful, yet distinctive voice astonished the audience. Brook Wilson is fantastically talented and I've watched her performances all throughout the TUTS season. She is both is an amazing vocalist and highly crafted character actor. I have never seen a dull performance from her yet. Her uncompromised talent and vocal range in " Pearl the Singer" is one I will never forget and brought many shouts and cheers from the audience on opening night.
Go and check out Smokey Joes Café it premiering July 14-19th at Miller Outdoor Theatre. The performances are free and it 's a great show to bring the entire family too.
Bring a blanket and sit on the hill and be prepared to sing along and have a great time!
For more information on this show you can visit TUTS official website here: https://www.tuts.com