A Furry Visitor to Memorial Hermann Southwest Hospital Is Recognized By the City of Houston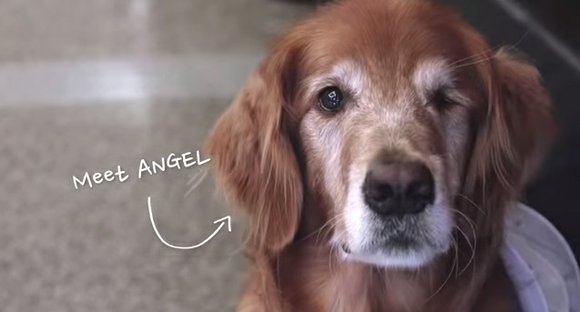 HOUSTON (July 21, 2015) – Angel, a Golden Retriever therapy dog with Faithful Paws, and frequent visitor to Memorial Hermann Southwest Hospital, was given a great honor today during a ceremony at Houston's City Hall. David W. Robinson, Houston City Council At Large Position 2 and Mayor Annise Parker officially proclaimed July 21 as "Angel the Therapy Dog Day" in Houston.

For a closer look at Angel's recent visit to Memorial Hermann Southwest and the proclamation ceremony, check out our YouTube video.
For some patients the road to recovery can be long, but sometimes the unconditional love from a new friend is exactly what a patient needs. Born an only puppy, rare for Golden Retrievers, Angel knows all about unconditional love. Angel was born with just one eye and three legs yet her breeder refused to euthanize her in spite of the difficult road she was sure to face.
Angel visits more than 100 hospitals and nursing homes each year including Children's Memorial Hermann Hospital and Memorial Hermann Southwest.
"As soon as she walks through the door, her tail is wagging and suddenly there's a smile on everyone's face," says Gillian Alexander, Vice President and Chief Nursing Officer at Memorial Hermann Southwest. "Her visits give everyone something to look forward to and just by petting the dogs, we see the patients immediately become more relaxed and at ease."
During a recent visit to Memorial Hermann Southwest, Angel walked into the room of Dana Jerrols. Jerrols was receiving treatment for cancer and was thrilled to see Angel and her friends. He said Angel and her friends reminded him of his dog at home. "This really made my day, I like this," said Jerrols. "I feel better already."
"I love watching Angel when she approaches someone. There is a knowing connection as you see her take a person away from their troubles and concerns to a place of happiness and peace," says Trish Herrera of Faithful Paws. "I hope that Angel inspires others to realize no matter how different we all are or whatever we may be going through, we can all be of service and we all have value."
About Memorial Hermann
An integrated health system, Memorial Hermann is known for world-class clinical expertise, patient-centered care, leading edge technology, and innovation. The system, with its exceptional medical staff and more than 23,000 employees, serves to advance health in Southeast Texas and the Greater Houston community. Memorial Hermann's 13 hospitals include four hospitals in the Texas Medical Center: an acute care hospital which houses the Texas Trauma Institute and a Level I trauma center of which Life Flight® air ambulance is a part, a hospital for children, a rehabilitation hospital and an orthopedic and spine hospital; eight suburban hospitals; and a second rehabilitation hospital in Katy. The system also operates three Heart & Vascular Institutes, the Mischer Neuroscience Institute, three IRONMAN Sports Medicine Institute locations, joint replacement centers, cancer centers, imaging and surgery centers, sports medicine and rehabilitation centers, outpatient laboratories, a chemical dependency treatment center, a home health agency, a retirement community and a nursing home. As an Accountable Care Organization, the system also offers employers health solutions and health benefit plans through its wholly owned Memorial Hermann Health Insurance Company.
For more information, visit memorialhermann.org