TIRR Memorial Hermann Moves Up the Rankings of Nation's Top Rehabilitation Hospitals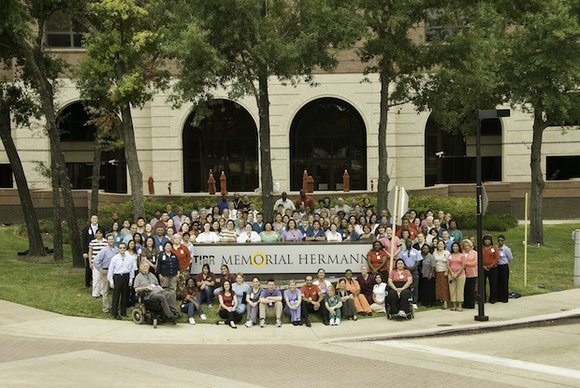 HOUSTON (July 21, 2015) – TIRR Memorial Hermann is the best rehabilitation hospital in Texas and the second best in the United States, according to U.S. News & World Report's Best Hospital rankings for 2015-2016. TIRR Memorial Hermann's ascend to the No. 2 spot marks the 26th consecutive year TIRR Memorial Hermann has been included in the rankings.
"This acknowledgment is a testament to our long-term legacy of leading medical rehabilitation, research, education and providing excellent care," says Carl Josehart, Sr. Vice President, CEO, TIRR Memorial Hermann. "It also demonstrates the continued innovation and dedication of our affiliated physicians and staff to advance the field of rehabilitation."
TIRR Memorial Hermann was founded in 1959 as one of the country's first rehabilitation hospitals. It has since grown to a 134-bed hospital located in the world renowned Texas Medical Center in Houston.
In addition to providing the very highest level of rehabilitation services to patients, TIRR Memorial Hermann is also a leader in cutting-edge research to treat people with a range of disabilities and complex conditions such as brain and spinal cord injury, stroke, multiple trauma, amputation and neurodegenerative diseases.
"We're so proud of the staff at TIRR Memorial Hermann and the consistent recognition they receive for providing patients with the best rehabilitative care possible," says Dan Wolterman, President and CEO, Memorial Hermann Health System. "Patients and their families come to our rehabilitation hospital from around the world because they know when they walk through the door they'll receive only the highest level of care and compassion."
U.S. News evaluated hospitals in 16 adult specialties and ranked the top 50 in most of the specialties. Less than 3 percent of the nearly 5,000 hospitals that were analyzed for Best Hospitals 2015-16 were nationally ranked in even one specialty.
"A Best Hospital has demonstrated expertise in treating the most challenging patients," says Ben Harder, chief of health analysis at U.S. News. "A hospital that emerged from our analysis as one of the best has much to be proud of."
Memorial Hermann-Texas Medical Center was also listed in the U.S. News rankings in the specialty areas of gynecology, nephrology and urology.
U.S. News publishes Best Hospitals to help guide patients who need a high level of care because they face particularly difficult surgery, a challenging condition or extra risk because of age or multiple health problems. Objective measures such as patient survival and safety data, adequacy of nurse staffing and other data largely determined the rankings in most specialties.
The specialty rankings and data were produced for U.S. News by RTI International, a leading research organization based in Research Triangle Park, N.C. U.S. News used the same data, as well as the new Best Hospitals for Common Care ratings, first published in May, to produce the state and metro rankings.
About TIRR Memorial Hermann TIRR Memorial Hermann changes lives by improving outcomes, offering hope and maximizing independence for people affected by disabling injury or illness. Recognized among the leading rehabilitation hospitals in the country, TIRR Memorial Hermann serves as a model for interdisciplinary rehabilitation services, patient care, education and research. TIRR Memorial Hermann is a 134-bed nonprofit rehabilitation hospital located in the Texas Medical Center in Houston. Founded in 1959, TIRR Memorial Hermann has been named one of "America's Best Hospitals" by U.S. News and World Report for 26 consecutive years. TIRR Memorial Hermann provides rehabilitation services for individuals with spinal cord injuries, brain injuries, strokes, amputations and neuromuscular disorders. TIRR Memorial Hermann's reputation is based on more than 50 years of experience in rehabilitation and research, the high caliber of its physician partners and clinical staff, and its comprehensive programs and services. TIRR Memorial Hermann is also recognized for a long-standing commitment to educating patients, families, healthcare professionals, caregivers and the general public about rehabilitation. Extending knowledge and resources into the community remains a top priority and part of TIRR Memorial Hermann's pledge to make a difference in the lives of those recovering from disabling injury and illness. For more information about TIRR Memorial Hermann visit tirr.memorialhermann.org or call 1-800-44REHAB(73422).
About Memorial Hermann
An integrated health system, Memorial Hermann is known for world-class clinical expertise, patient-centered care, leading edge technology, and innovation. The system, with its exceptional medical staff and more than 23,000 employees, serves to advance health in Southeast Texas and the Greater Houston community. Memorial Hermann's 13 hospitals include four hospitals in the Texas Medical Center: an acute care hospital which houses the Texas Trauma Institute and a Level I trauma center of which Life Flight® air ambulance is a part, a hospital for children, a rehabilitation hospital and an orthopedic and spine hospital; eight suburban hospitals; and a second rehabilitation hospital in Katy. The system also operates three Heart & Vascular Institutes, the Mischer Neuroscience Institute, three IRONMAN Sports Medicine Institute locations, joint replacement centers, cancer centers, imaging and surgery centers, sports medicine and rehabilitation centers, outpatient laboratories, a chemical dependency treatment center, a home health agency, a retirement community and a nursing home. As an Accountable Care Organization, the system also offers employers health solutions and health benefit plans through its wholly owned Memorial Hermann Health Insurance Company.
For more information, visit tirr.memorialhermann.org