Tuskegee's Own Dr. Ellis Hall – First African American Board Certified Veterinary Radiologist is Honored as the "Father of the Lumbee Veterinarians"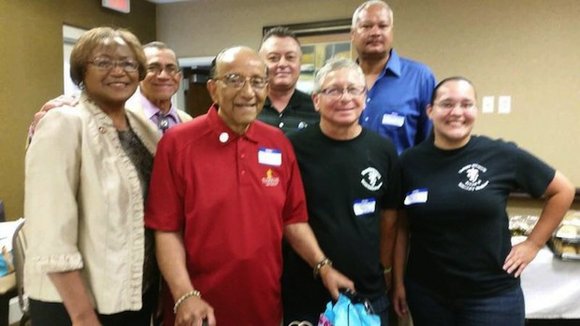 TUSKEGEE, Ala. (July 21, 2015) –Independence Day celebrations take place annually all over America as the nation celebrates its birthday. However, July 4th also had another very significant meaning for members of the Lumbee Indian Tribe in which their 47th Homecoming Celebration showcased Lumbee pride and their historic and current contributions. In the midst of the festive homecoming parade and old fashion barbecue cookout, to name a few of the events, the celebrations highlighted a historical figure to the Lumbee veterinarians by also paying tribute to Tuskegee's Dr. Ellis M. Hall, who is called the "Father of the Lumbee Veterinarians."
The community was invited to come out and say "a big thank you to Dr. Ellis Hall, a remarkable American and Father of the Lumbee Veterinarians. Thank you God for Dr. Hall," said, James Locklear, editor of the Native Visions Magazine.
Hall is noted for his efforts in helping the Lumbee Indians of Robeson County, North Carolina, who also faced some of the same problems with discrimination as African Americans had faced. As noted by the editor in his interview with Dr. Hall for the Native Visions Magazine, "Doing the right thing is what led Dr. Hall to what was then Pembroke State University back in the fall of 1973. He was there on a recruitment trip to get Lumbee Indian students into the veterinary school at Tuskegee."
Hall, an alumnus of the Tuskegee University School of Veterinary Medicine (TUSVM) Class of 1956 as well as a professor emeritus with over 40 years of teaching veterinary medicine at Tuskegee, has a rich history himself and also takes great pride in being a Tuskegee graduate. He was an orphan boy in Robeson County after the death of both of his parents who later rose to be a successful veterinarian and the first African American to be board certified in the American College of Veterinary Radiology.
Hall has earned a master's degree in surgery from The Ohio State University and a master's degree in radiology and Ph.D. degree in radiation biology from Colorado State University. He is a remarkable individual that still lives by his life philosophy, "to stay in His (Master's) will and do the right thing." Also, a philosophy that has been passed down to his six children, all of whom attended Tuskegee University. Hall showed his commitment to his life philosophy when over 42 years ago he decided to help members of the Lumbee tribe attend TUSVM. He has continued to demonstrate his commitment to his life philosophy.
During the 47th Lumbee tribe Homecoming Celebration, Dr. Hall and his wife, Lillie, who is also a Tuskegee alumna, were featured on a float that had the caption "Lumbee Veterinarians: Thanks Tuskegee and NC State." Other participants on the float included Dr. Ruby Perry, dean of the College of Veterinary Medicine, Nursing and Allied Health at Tuskegee University, and other alumni of TUSVM and North Carolina State that are also Lumbee veterinarians.
Dr. Perry gives credit to Dr. Hall for leading her into the exciting field of veterinary radiology. "I was fascinated with diagnostic imaging because Dr. Hall made it challenging and yet so interesting," Perry said.
"He is my mentor and truly is the reason I followed his footsteps and became the first African American female board certified veterinary radiologist."
In addition to the parade which honored Dr. Hall, a Lumbee Veterinarians Tribute program was also held with a southern style barbecue in which Dr. Hall, Dr. Perry, and Dr. Paul Lunn, dean of the North Carolina State University College of Veterinary Medicine (NCSU-CVM), were honored as special guests. The past eight Lumbee veterinarians and the current four Lumbee veterinary students were highlighted as well in the program.
History of Lumbee Veterinarians
Dr. Davis E. Brooks, TUSVM (1978)
Dr. Curt Locklear, Jr., TUSVM (1979)
Dr. Michael Deese, TUSVM (1989)
Dr. Terry Clark, TUSVM (1989)
Dr. Jacqueline Locklear, NCSU-CVM (1990)
Dr. Lora Cummings, NCSU-CVM (1999)
Dr. Sonya M. Chavis, NCSU-CVM (2013)
Dr. Melissa Chavis, TUSVM (2014)
Current Lumbee Veterinary Students
Isaac Martinez, TUSVM (2016)
Ben Mitchell, TUSVM (2017)
Sarah Oxendine, NCSU-CVM (2017)
Jana Hunt, TUSVM (2018)
About Tuskegee University
Founded in 1881 by Booker T. Washington, Tuskegee University is home to approximately 3,000 students from the U.S. and 30 foreign countries. The academic programs are organized into seven colleges and schools: 1.) Andrew F. Brimmer College of Business and Information Science, 2.) College of Agriculture, Environment and Nutrition Sciences, 3.) College of Arts and Sciences, 4.) College of Engineering, 5.) College of Veterinary Medicine, Nursing and Allied Health, 6.) Robert R. Taylor School of Architecture and Construction Science, and 7.) School of Education.
Tuskegee University is accredited with the Southern Association of Colleges and Schools Commission on Colleges to award baccalaureate, master's, doctorate, and professional degrees. The following programs are accredited by national agencies: architecture, business, education, engineering, clinical laboratory sciences, nursing, occupational therapy, social work, and veterinary medicine.
To learn more about Tuskegee University, go to: www.tuskegee.edu.