Walking Down the Aisle with David Tutera for Your Wedding Experience
Houston
Jo-Carolyn Goode | 7/21/2015, 8:10 p.m. | Updated on 7/21/2015, 8:10 p.m.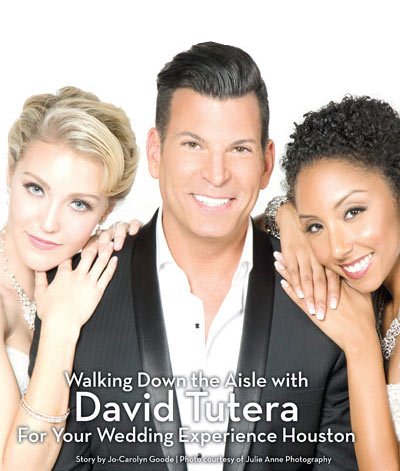 Quick: What are your first thoughts when hearing the word wedding? Naturally bride, groom, the dress, flowers come to mind. All those frilly things are important for a beautiful wedding ceremony but there is one component that trumps them all…love. "A wedding is about two people coming together and proclaiming their love for one another in front of their family and friends," said wedding and entertaining expert David Tutera. Celebrating love has been a passion of Tutera since his teen years. Spawning a lucrative business, television shows, and countless design collections. In the bridal world, Tutera is the man.
A David Tutera wedding is not just a detailed affair it is an orchestrated experience. He truly understands that a wedding is more than that one day. It is an experience that is treasured forever, relived often, and has no do overs. Tutera is genesis in the way he executes a wedding from taking the ideas of the couples combining them with his brilliant imagination and creating something that one could never dream or knew existed. Brides hammer to get to him for their big day but not every bride is lucky enough to have the expertise of Tutera as their planner. So Tutera is giving brides the next best thing with his Your Wedding Experience tour. "I'm always trying to find new and exciting ways that I can personally be involved in helping couples plan their wedding," said Tutera about the tour that is coming to Houston on Sunday, August 9th. "This is not something I am just putting my name on, I am actually hosting it as well and allowing couples to touch, feel and experience all of the trend forward ideas and inspiration that I have personally come up with alongside their city's local vendors, hand picked by me, to help get their wedding planning off to a great start!"
After the ring
Once a single lady becomes a fiancé the first thing she should is to take pleasure in the moment. Most brides are so excited that they want to jump right into planning the big day. Stop! Breathe and relax! Hopefully this will be a one time life event and you don't want to rush through every minute of the experience. Tutera says that is one of the biggest mistakes brides make by not enjoying first being engaged before rushing into the other details.
Begin to think about your budget after some time has passed. This will dictate your day and make planning easier. Hiring an event planner should be your next step if thee budget allows. A wedding can be done without one but you want someone to help in planning for so many reasons. Tutera points out a few. A wedding planner is a professional in the industry, which means they know the ropes of wedding planning. Brides must understand that going and being in a wedding are a lot different from planning your own wedding. A wedding planner helps with charting out a timeline, remembering the finer details, and just the overall smoothness of the process. This takes stress away from the bride, especially on the big day. A planner is good for the connections they have made because that can save money. They work with various vendors often and can negotiate a better deal for services rendered on your behalf.