Astros to Honor Memory of Walt Matthews Tonight
Will hold special pregame ceremony prior to tonight's game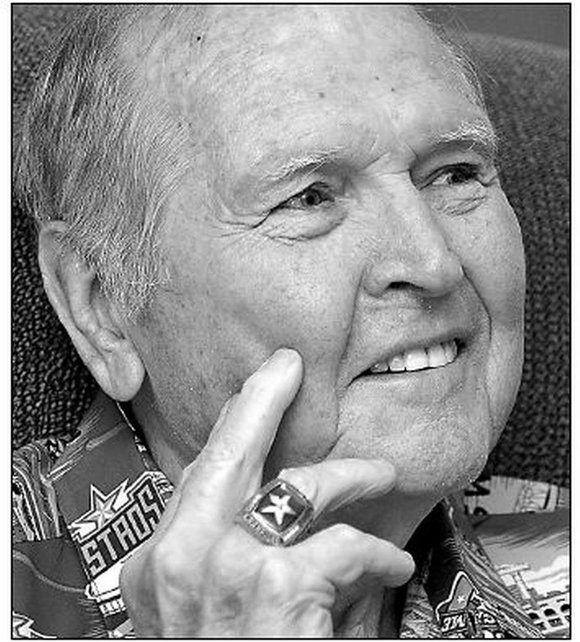 HOUSTON, TX--The Astros will hold a special pregame ceremony tonight honoring the long career of legendary scout Walt Matthews.
Matthews, who passed away in 2014 at the age of 79, served the organization for 51 years, which is the longest in franchise history. As part of tonight's ceremony, the Astros will present a plaque to his widow, Vicki Matthews, on the field prior to the 7:10 p.m. game vs. the Red Sox at Minute Maid Park. Matthews' 11-year-old grandson, Jaxon, will throw out tonight's ceremonial first pitch. Astros President of Business Operations Reid Ryan, General Manager Jeff Luhnow and veteran pro scout Paul Ricciarini will take part in the ceremony. Ricciarini was a close friend of Matthews and credits him with being a major influence on his career.
Additionally, the Astros have placed a plaque honoring Matthews in the press box on the wall outside of the media dining room at Minute Maid Park.
DISTINGUISHED CAREER
As a scout, Matthews was larger than life amongst his peers. During his long, distinguished career in baseball, he earned a reputation as one of the top scouts in the game, with a keen eye for talent while serving as a mentor and great friend to generations of scouts, young and old.
In addition to his long career as a scout, Matthews, a native of Ashdown, AK, served the organization as a minor league player and minor league manager. Prior to his baseball career, Matthews starred in both baseball and football at the University of Arkansas, helping to lead the Razorbacks to the 1955 Cotton Bowl as a defensive tackle. Upon graduation, he was drafted by the St. Louis Cardinals, but would spend the majority of his minor league career as a first baseman and outfielder in Houston's farm system with the Durham Bulls beginning in 1961. Matthews set a franchise record with 30 home runs in 1963 while with the Bulls. However, the greatest contributions Matthews made to his teammates won't be found on scorecards or in his baseball statistics.
Matthews was credited with helping many young players, most notably an 18-year-old Joe Morgan, with whom he played with at Durham in 1963. As a result of the racial slurs and threats Morgan faced from opposing fans that season, he intended to quit the team and return to his home in California. However, Matthews encouraged Morgan to stay and was successful in reducing the racial abuse. As a result of Matthews' encouragement, Morgan stayed the course and continued to flourish, ultimately going on to a Hall of Fame career. Morgan has often spoke about the influence that Matthews had on his early career.
Matthews became a talent scout for the Astros in 1967, and would remain with the organization until his retirement in 2012. After a lengthy illness, he passed away on April 28, 2014.
"I got to know Walt very well in my cross-checking days with the Blue Jays in the '80s," said Ricciarini, who has been with the Astros since 1999. "He was revered as a scout at that time, but was such an easy guy to talk to. The first day I met him, I felt like I had known him my whole life.
"His knowledge of the game and scouting was second to none, and I learned a great deal from him. He was one of my greatest mentors, someone I learned from about scouting and life. I was always impressed with how well he treated people, no matter who they were. He was well-liked and greatly respected. He was just an honorable, precious man and someone that I looked up to."
For more information, visit astros.com