Cops Coach Football, Build Bridges in Watts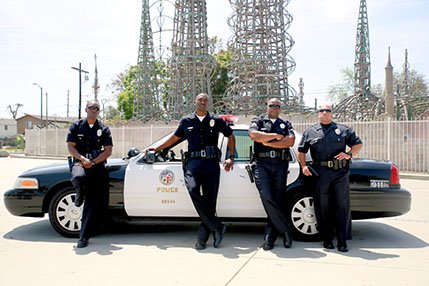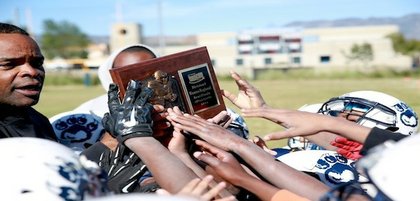 Where the Watts riots once erupted, LAPD officers use football to build bridges and battle crime.
And that is a major accomplishment. In this predominantly black Los Angeles neighborhood, young residents typically spurn law enforcement.
"Parents tell us: 'My kids are taught not to trust the police,'" said LAPD officers Zaron Thompson.
This mindset makes what Thompson and the other L.A. cops are doing — coaching the Watts Bears youth football team — more than groundbreaking. It's life-changing.
As contempt for law enforcement seems to grow in urban communities across America, the Bears' coaches have penetrated neighborhoods groomed to fear them and made inroads with young people who often resent them.
"There are bad teachers, bad cops, bad firefighters," said Carnell Marshall, the team's general manager. "But these guys, the coaches, are good guys — good guys who want to make a difference in the community they patrol."
These lawmen have done that since 2013. They call themselves officers Goosby, Holliman, Swift, and Thompson. They coach the Bears Pop Warner football team. Its members come from the poor, notorious, and gang-infested Nickerson Gardens, Imperial Courts, and Jordan Downs Public Housing Developments.
It was tough and bold for these cops to recruit from those specific housing projects. The prevailing sentiment toward cops there is total resentment. These officers work those neighborhoods anyway. Their grassroots effort serves multiple purposes: to gain the confidence of youths in order to build relationships that can stem crime and violence, instill character traits that can stay with these kids throughout their lives, and — of course — teach them football.
"We're shaking up the community," said Marshall, who is not a police officer. "It's an area dominated by gangs. So, penetrating the area was anything but easy."
Marshall recalled just how hard that was: He and his staff distributed 600 flyers to homes in Watts, alerting residents to a new football team for 8- to 12-year-old boys. Parents did not need to pay to enroll their children. The officers had secured donations for that.
"Six hundred flyers," Marshall stressed, "and one kid showed up. One."
Instead of being discouraged, though, the coaches redoubled their efforts. They went door-to-door — not exactly a welcome sight in that community. And the reception was hardly warm.
"It was like, 'What are you doing? You wanna play football? Where's your mom?'" Marshall said.
And the response came back, "'You're the police? No!'" Thompson said.
It did not help that gang members run the streets. So, having kids play in public parks could have endangered them. But there was one key caveat: Police always would be present.
"He would not be on that field if the officers weren't out there with him," Tamika Allen said of her son Mekhi, 10. "When you have the police, it feels more protected when you're practicing or at the games. You feel safe. Because if anything pops off with gangbangers, you've got all these officers around; everybody's going to jail."
Ultimately, after much pleading and prodding, the coaches last year fielded a 35-member team. And they won the Pop Warner regional and city championships.
More important, they won the neighborhood.
"How about that?" Marshall said. "I keep my head shaved so I don't have to worry about losing it. Sometimes, it's that tough. But it's rewarding because in most cases, the officers are the father figures or second fathers to these boys. And we're proud that none of the kids has gotten into trouble.
"We teach respect. We tell them rappers aren't role models. One kid asked me, 'Why would I want to become a judge?' That's what we're fighting against — and we're winning."
To play on the Bears, young men are required to attend summer school, flourish in the classroom, and avoid discipline problems.
"Ninety-nine percent of the kids are black," Marshall said. "Most of them come hungry. They live among gang members. They don't have the best attitude about police officers, especially with what has gone on with black men being shot by law enforcement.
"But this program has been good for them. It's been a way to bridge the gap. And we see tremendous change with our boys."
That's why Marshall said he hopes other cities adopt similar programs.
"It's a hands-on way to help young people understand that police officers care," he said. "I'd love to see this program in Chicago, man. It's needed there, D.C., New York. Pretty much everywhere could use programs to get young black males to look at police officers differently. To do it through football just makes sense."
Nine-year-old Malachi Russ' mother, Melody Culpepper, said her reluctance to let her son join the Bears was well-founded, but she has seen her son's attitude improve since he signed on. And, she said, her attitude has been altered, too.
"I thank God they came. It changed the image that's been in my head about the police," Culpepper said. "Before, most of the time, the police are harassing people in the neighborhood. This is a different look, a different feel."
Marshall said the work is far from finished. The team still seeks more parental participation. Last year, a visiting ball club traveled 60 miles to face the Bears and arrived with 200 fans. "And we had maybe 20 people," Marshall said. "That has to change. When parents show up, they [the athletes] play better. It's proven. I have three daughters at home, so I don't have a son who can play. But if they want change, they have to do something. It's easy to complain. The officers are doing something. And it's so beneficial to these kids and the community that it's hard to quantify."
Actually, according to the Los Angeles Times, crime in Watts has decreased a mind-blowing 50 percent since this program began.
"The officers see these kids in the community all the time, and have established relationships," Marshall continued. "They work there, and the kids respect them, which goes a long way.
"It's only the third year," Marshall added. "We still need more parents coming to games. We still need donations. But we've seen the change in our kids' attitudes, the way they wear their clothes and on and on. That's progress that likely otherwise would not have been made."
Source: Urban News Service
For more information, visit www.urbannewsservice.com