Minnesota Sports Stars Page, Oliva and Scurry Headline NABJ Sports Task Force Pioneer Awards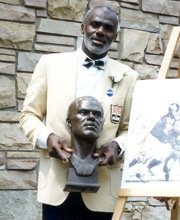 MINNEAPOLIS (July 22, 2015) -When Minnesota sports fans list the best athletes they have been fortunate to applaud as their own, Alan Page, Tony Oliva and Briana Scurry surely come to mind. That's why the Sports Task Force of the National Association of Black Journalists is thrilled to announce that they are among six celebrated sports figures who will receive prestigious Sam Lacy Pioneer Awards on August 7.
Page was an exceptional defensive tackle with the Minnesota Vikings before becoming a Minnesota Supreme Court Justice. Oliva was one of the most dangerous hitters in Minnesota Twins history. Scurry started playing soccer as a child in Minnesota, then blossomed into a impregnable goalkeeper who helped her team win a World Cup and two Olympic golds.
They will be joined by two former University of Minnesota stars, boxer/football player Bill McMoore and basketball player Linda Roberts, along with Minneapolis Star-Tribune sports reporter LaVelle Neal as honorees at the awards ceremony from 6:30-8 p.m. inside Salon ABC at the Hilton Minneapolis. The Pioneer Awards are a major event during the NABJ Convention that will be held from Aug. 5-9 in Minneapolis.
For the sixth consecutive year, Major League Baseball is the major sponsor of the Pioneer Awards, which are named for Sam Lacy, a pioneering sports reporter at black newspapers who strongly pushed for racial integration in sports. MLB has been joined by co-sponsors the NBA, the NFL, NASCAR, The Associated Press, the Minnesota Twins and Toyota. The co-hosts this year will be Ron Thomas, the director of the Morehouse College Journalism and Sports Program, and longtime Twin Cities sports journalist Ray Richardson. About 200 conventioneers are expected to attend.
The awards ceremony will be part of the NABJ Convention, which is the largest assembly of minority journalists in the world. At least 2,000 members from all aspects of journalism are expected to gather for the convention. The Sports Task Force, which has existed for 27 years, is comprised of black print, broadcast and online sports journalists nationwide. It sponsors about a half-dozen events at every convention.
The Sports Task Force convention activities will begin on Thursday morning, August 6, with its annual Mentor Breakfast sponsored by ESPN.
Here's why this year's Pioneers, all of whom have personal or professional ties to Minnesota, are being honored:

Bill McMoore's association with University of Minnesota dates back more than 60 years. The 1951 graduate was the only black student in the Education Department and on the football and boxing teams. When the latter was an NCAA sport, he ranked No. 2 among the nation's light heavyweights. Professionally, McMoore rose from being a teacher in the Minneapolis school district to becoming its director of physical education and athletics, then he became the Minnesota Timberwolves' director of community relations
The Sports Task Force has chosen LaVelle Neal III as our Journalist of the Year because of his numerous achievements as a rare black baseball beat reporter. He has covered MLB for 21 years, 18 as the Twins beat reporter, and in 2013 he became the first African-American to be elected president of the prestigious Baseball Writers Association of America.