Video of Sandra Bland's Arrest Ignites Firestorm of Reactions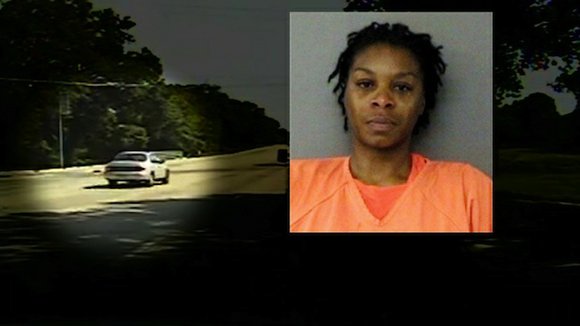 "But I don't think that he had the right to ask her to get out of the car because not putting out your cigarette is not cause for an arrest."
Texas Department of Public Safety Director Steven McCraw said Encinia has been taken off the street and has been assigned administrative duties pending the outcome of an investigation.
"We have certain procedures in place, and he did not comply with those procedures," McCraw said. "One of the many procedures is letting the individual know in terms of what actions are going to be taken."
The director also said, "A DPS state trooper has an obligation to exhibit professionalism and be courteous throughout the entire contact, and that wasn't the case in this situation."
What's the response?
Emotions ran high as people across the country watched the video.
"Just watched about 20 minutes of Sandra Bland's traffic stop," one person tweeted. "(I don't know) if I've ever been so heated. I can feel my blood boiling."
"Half of my family (including my mother) works in law enforcement," Ashley C. Ford tweeted. "I am well aware of my rights. Sandra Bland should've never been arrested."
Encinia has not spoken out publicly about the incident. But he gave his account in his arrest warrant affidavit, as reported by CNN affiliate KPRC-TV in Houston.
The trooper wrote that Bland became "combative and uncooperative" and that she was placed in handcuffs "for officer safety."
"Bland began swinging her elbows at me and then kicked my right leg in the shin," Encinia said. "I had a pain in my right leg and suffered small cuts on my right hand. Force was used to subdue Bland to the ground to which Bland continued to fight back."
Encinia also wrote that Bland "was placed under arrest for Assault on a Public Servant."
Why problems with video?
The Texas Department of Public Safety released almost an hour of dashcam video. But in parts of the footage, the video is looped while the officer's audio continues uninterrupted.
For example, there are moments when a car or wrecker driver appears in the frame, suddenly disappears and then appears once again.
But the video of the traffic stop was not edited, according to Texas Department of Public Safety public information officer Tom Vinger. "There was a technical issue during posting later in the video, and we are working to correct," Vinger said Wednesday.
Murder or suicide?
While the video of Bland's arrest may be startling, it still doesn't explain how she died in jail three days later.
According to the Waller County Sheriff's Office, Bland was found "in her cell not breathing from what appears to be self-inflicted asphyxiation." She received CPR, and an ambulance came, but she was pronounced dead a short time later.
Authorities said Bland apparently hanged herself with a trash bag from a metal barrier that separated the bathroom from the rest of the cell.
There were no cameras inside her cell, but cameras in the hallway showed no one entering or leaving before the discovery of her body.