Linens: A Fine Detail for An Extraordinary Wedding Reception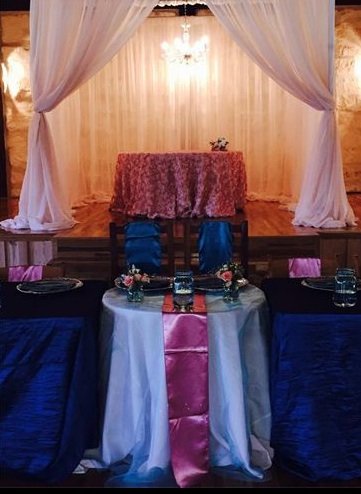 Ask any bride and she will more than likely say she spent most of her wedding planning detailing her reception. It is where the bride can take a blank space and transform it to a magical vision. One of the easiest ways to go from drab to fab is the addition of table linens. For the past 10 years Roshunda Jackson of Joie Dé Linens Fine Linen Rental has been the one brides have turned to for that special touch to make their wedding reception extraordinary.
When it comes to exquisite, reasonably priced linens for special events, Joie Dé Linens Fine Linen Rental is among the best in Houston. This Black-owned establishment does their best to ensure their services directly reflect their mission statement--- "quality linens at affordable prices." The company's sole purpose is to provide special event linen rentals, however, they have extended their services by giving free consultations for customers in order to help them by bringing their ideas for highly-anticipated and special events into perspective. "In hindsight, we used to think that special event linen rentals was our primary piece, but later discovered that sometimes you have customers that just don't have the financing to hire on a planner, so they'll come in and inquire about the linens, but we end up working out a budget for them, so it's a two-fold," said Jackson.
The first step in the process is sitting down with the client to get to know them and learn about their event. Before this meeting there are some things that couples need to know. Jackson said that the most important thing a couple should know when planning a wedding reception is that "they need to have a pre-selected or pre-allocated budget, and know that there is a possibly they might go over, realistically, at least ten percent of that budget." She said that this would help a bride not "short-change" herself when it comes to making their dream wedding come into fruition. A couple should also take into consideration what vendors they will choose to use. "There are some vendors that are new to the industry, and you might get more bang for your buck, because they don't have the experience. Some vendors might provide exceptional service, but their prices are overpriced. You might have some vendors that have extra packages. If you use that vendor, then you have another that's associated with them, and you can get another service discounted at a discounted rate because you're using that vendor, so selecting vendors wisely is very important."
When these things are known Jackson's job is made easier and then the fun of picking colors and the finer details can begin. Her favorite part of planning and coordinating a reception is "the colors." She explained by saying, "I really do truly have a passion for the coordination of colors, bringing textiles, matching patterns, and different types of styles and patterns. To see it when you are compiling your color scheme together, and then the day of to see everything manifest, that's what the awesome part to me is, and then seeing my customers' expressions, not only the brides' but the grooms'."
For more information on Joie Dé Linens Fine Linen Rental, go to www.joiedeevents.com.