On Pointe with Misty Copeland in Houston
Jo-Carolyn Goode | 7/28/2015, 4:49 p.m. | Updated on 7/28/2015, 4:49 p.m.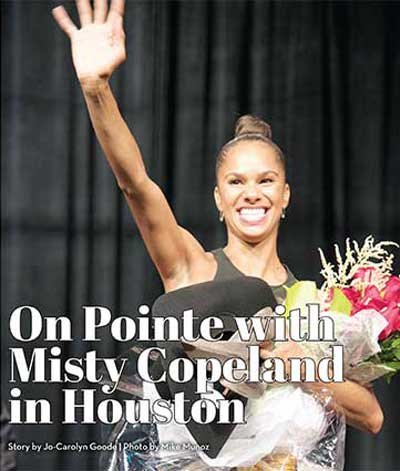 If you didn't know her story you would never guess it by looking at her. Misty Copeland is a pillar of grace, poise, humbleness, courage and strength. Viewing her with a naïve eye it is hard to see that behind her curved well defined frame are years of training and performing through injuries and pain. Years of constantly trying to prove herself to others that she belonged, was capable, and was a ballerina. Years of fighting the naysayers and those meaning her harm instead of good. One would never know that Copeland's strength is more than just physical but it is also mental and spiritual wrapped into one.

Coming from an environment that wasn't the ideal training ground for a prima ballerina coupled with the late start into ballet at 13, it is astonishing at the monumental fetes that she has accomplished in 15 years. Some that has taken the most seasoned professional a lot longer to do. And though there have been other gifted and talented African American ballerinas before such as Arthur Mitchell, who broke the ballet color line in 1962 with the New York Ballet and Houston's own Lauren Anderson, the first African American Principal Dancer for any major dance company, they have been scarce and few in number. So Copeland had few models to look emulate as she pioneered into the European art form that has a lily-white history.
But through it all she pressed on and educated herself about her predecessors. She trained and pushed her way to the top to make history as the first African American Principal Dancer at the American Ballet Theatre (ABT), a first in the company's 75-year history. Copeland has described the feeling of achieving this lifelong goal as a distinct honor for which she is humbled to have been the recipient of.
Getting to such a level as this was not an easy road for Copeland. Of course there times that she wanted to quit but her sense of responsibility to the next generation and to herself would not allow her to do so. Now she continues her mission of not only inspiring the next generation of African American dancers but also educating the public on all those on which shoulders she now stands on. She brought her message to a packed crowd in Houston recently in a live Q&A session sponsored by H-E-B. In the audience the future of ballet was certainly present dressed to the part in tutus and tiaras hanging on to Copeland's every word.
"I feel like I am championing so many young African American dancers," said Copeland in her talk. And a champion she is. "There were comments made to me from people that said you know there has never been a black woman that has gone beyond soloist," Copeland recalled in her days when she was rising through ABT. "It took an understanding and a fight and knowing that this is what I want to do. I am going to do what I need to do in the healthiest way that I can and get my body to look the way that it needs to look. And I am going to dance harder than everyone around me." Copeland was determined.