TUTS' Humphreys School of Musical Theatre Announces the Rockin' Teen Cast of a Groundbreaking Musical!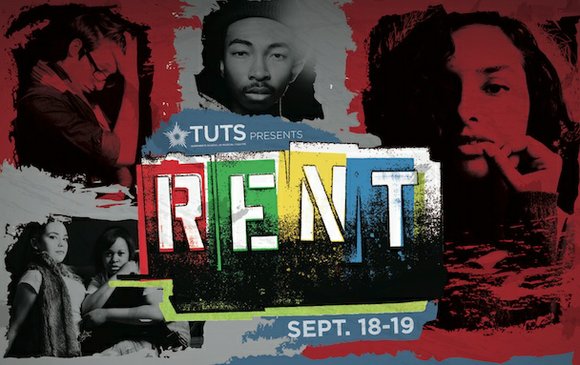 HOUSTON, TEXAS… Theatre Under The Stars' (TUTS) Humphreys School of Musical Theatre (HSMT) proudly presents the inspiring, all-teen production of Rent September 18 & 19 at The Hobby Center. Winner of the TONY Award for Best Musical and the Pulitzer Prize for Drama, Rent has become a pop cultural phenomenon with songs that rock and a story that resonates with audiences of all ages.
"I'm honored and excited to have the opportunity to direct the rock opera that impacted the whole world," said director Bobby Linhart. "Based on Giacomo Puccini's opera La Boheme, Jonathan Larson's Rent is a complex journey that highlights many themes – community, survival, relationships and hope. The bohemian way of life and Tuberculosis were at the center of Puccini's opera. Larson's tells the story of bohemian life in New York City's East Village under the shadow of the HIV/AIDS virus."
"There are millions of people worldwide who are currently infected with HIV/AIDS and sadly, one of every four new cases in the United States is among youth ages 13-24. Our amazingly talented cast of students from the Greater Houston Area fits into this age bracket and is posed to bring its unique perspective to the characters."
Roger Davis, played by Raheem Maughn, is a struggling musician living in the East Village of New York City. Maughn appeared as Enjolras in Klein High School's production of Les Miserables School Edition, nominated for a Tommy Tune Award earlier this year. Playing the role of Mark Cohen, Roger's loft roommate and a young filmmaker, is Dylan Lambert. Lambert is a student at St. Pius X High School and was most recently seen as Wilbur Turnblad in TUTS' HSMT production of Hairspray at Miller Outdoor Theatre. Former loft roommate and liberal professor, Tom Collins, is played by Manvel High School student Jamir Brown.
Appearing as Benjamin Coffin III, the landlord of Mark and Roger's apartment building and a former roommate himself, is Alex Rudd. Rudd was a member of Friendswood High School's Mary Poppins cast, earning a Tommy Tune Award nomination earlier this year. Joanne Jefferson, a smart public interest lawyer, will be played by Mallory Bechtel. Bechtel is a student at The John Cooper School and recently appeared as Velma Von Tussle in TUTS' HSMT production of Hairspray at Miller Outdoor Theatre. Acting as Angel Dumott Schunard, the eccentric street drummer with a magnetic personality, is Dawson High School student Aaron Strack.
Playing the role of Mimi Marquez, a club dancer living in the same building as Mark and Roger, is Melissa Ramos. Ramos was a Tommy Tune Awards Best Leading Actress nominee earlier this year for her role as Wednesday Addams in Kerr High School's production of The Addams Family, The Musical. Also appearing in Rent is High School for the Performing and Visual Arts student Samantha Williams, who plays Maureen Johnson, an unpredictably zany performance artist.
Other residents of New York City's East Village include Jaylen Axel, Cardero Berryman, Anthony Buzbee, Chase Callahan, Treat Carrier, Gerra Gistand, Blake Harlson, Austin Karkowsky, Ashlyn Maddox, Alexa Magro, McKenna Marmolejo, Jacob Masson, Savannah May, Grace Nardecchia, India Sherman, Aiden Snasdell, Desi Stephens, Elvin Stewart, Kerry Sullivan and Danielle Troiano.