Ashley Tamar Davis Returns Home to Star in the Hit "Motown The Musical"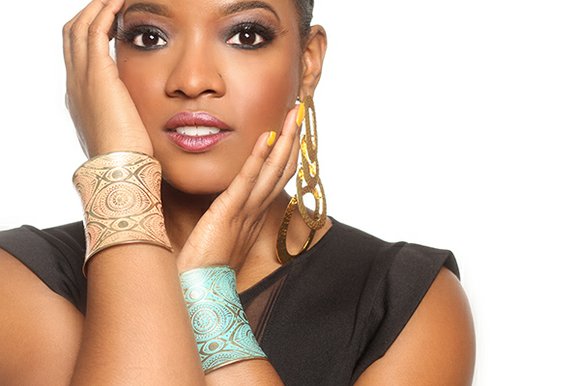 Ashley Tamar Davis is a Houstonian, HSPVA alum and Grammy nominee artist that returned home to Houston to star in the phenomenal hit "Motown the Musical." Motown the Musical is celebrating its one- year anniversary on the road with its first national tour. The show ran at Houston's Hobby Center on July 21-26, 2015.
I was lucky enough to grab a ticket to Motown the Musical's sold out first night and hear Davis's powerful vocal performance in the hit show. It was TRUELY AMAZING. I, along with the rest of the Houston audience, was blown away.
The Hobby Center stage was not the only place that Davis shared her vocals while in Houston. She made additional stops to Fleming Middle School for the Northeast Cultural Council Summer Arts in School, Delta Sigma Theta Sorority, Inc.'s 52nd National Convention and conducted numerous media interviews, of course. She also shared that she would not leave Houston without making visits to get some good ole' Frenchy's chicken and Pappadeaux's.
No stranger to the entertainment industry, Davis has been singing since the age of 3. As a teen she sung with Beyonce Knowles, Kelly Rowland, and Latavia Robinson in the girl group Girls Tyme. Instead of continuing on with the group, Davis choose a solo career. Becoming known as simply Tamar, she released her debut album "My Name Is Tamar" in 2010.
Fans may also remember her as a recent Prince's protégé (Yes! She toured with Prince!). She has also starred in several of Tyler Perry hit plays including The Marriage Counselor, Laugh to Keep from Crying, and Madea's Big Happy Family to name a few view.
I got a chance to chat it up with this superstar, powerhouse vocalist, and dear friend of mind and it was a true blessing. Check out the interview below and find out what else Davis has been up too!
1. It's so great for you to return to Houston with such a FAB show. So first tell us a little about Motown the Musical and why should we see it?
Motown the musical is a powerhouse musical. I first saw the show in august in 2013 it was the first Broadway show I have ever seen. At the time I was performing in "Big Otis" the Musical and the Director came to see my show and he said consider this your Audition. I went to see this show and from the time the curtain goes up you are just blown away by the music! Motown the musical is actually a storyline about Barry Gordy and how he has met every single person that has changed his life as well as him changing their life. It's based off his book "To Be Loved" so it is not just musical, you are really hearing his story so it's really powerful.
2. Now I hear your playing quite a few characters from the show including Esther Gordy and music icons Gladys Knight and Diana Ross. Who's been your favorite singer to portray in the show so far?
I do play Ester Gordy, Stevie Wonder's mother and Gladys Knight and at any given time I can play Diana Ross and I'm so hoping to play that role. All the parts are amazing to play none of them are better than the other. All of the parts are fun to play and this show features a lot of great singing, great talent and great acting.
3. How is it rehearsing with the cast of Motown the Musical?
The cast was great! I love working with new people and new talent. When I first joined the cast I was just overwhelmed because you're in this room full of people that Berry Gordy himself chose. So I knew that they were all going to be fierce. It was very humbling at the same time many of them would come up to me and actually recognized me from other works. It was really mind blowing to be excited to work with them and see them just as excited to work with them.
4. You have had quite the career and I've known you from beginning. What has been your most memorable and proudest moment?
I am a family girl especially a daddy's girl and my brothers and now my nieces and nephews those are really the joys of my life. Getting prepared for Houston is very emotional for me. I think for me that this is my moment. I think it's mainly because my entire family will be there and this will be the serious moment in my life. I have traveled and performed so many places but performing in Houston will be huge for me. I am a family girl and my proudest moment will be when my entire family comes and sees me in my hometown.
5.Who's been your biggest inspiration so far?
I know this sounds so cliché but my mom and dad have both been my rocks. My mom just got her doctorate and my Dad in his strength and courage. My dad was laid off just briefly years ago, and we spent two months together and during that time I learned so much from what makes him be such a warrior for the family and for himself. My parents not only encourage me, but also are always giving me different perspectives. My mom would always say "Well be sad for a second and get back up and smile and keep it going."
6. What is next for you after Motown the Musical? Any new projects in development for your fans?
Working with Tyler Perry really changed my life completely. I was standing on his Balcony one night trying to take this all in and that night he was the one that had encouraged me to pursue Broadway. So I'm not sure what is next for me. I take every single project as a blessing. I want to do more Broadway theatre and film, but for me, if anything it has to involve singing!
7. Anything special that you are working on for your fans?
In the process of this show and traveling and working with Tyler Perry has open so many doors for me especially with this new generation. Being here in Memphis I can't go anywhere, I have been stopped several times with supporters and fans which I call them "TAM faM" because my fans are family. I also found that a lot of young people want to get in this business, but they have no idea what it takes and what it involves and what job opportunities are there. So I launched the Tamar Academy -its a master class where I partner up with non-profit organizations and we go into the schools and expose kids to the right skills. The curriculum is pretty intense, and I just want to share what I learned- I came out of HSPVA and that experience was mind blowing.
8. So now that you are back in your Hometown of H-Town, what is the first thing you plan on doing while here?
Hopefully some great food-it will be great to get some good ole' Frenchy's chicken, and Pappadeaux's, those are the biggest things I miss!
9. Any advice to any future upcoming stars?
You cannot chase the money if this is your passion, don't do this if your just trying to be famous. If you have a gift that God is given you and you want to change the industry and if it's new, and fresh then you can't chase the industry. Also, know if this is your gift you have to loyal and determined. Take the no's and make them into blessings.
Ashley, I just want to thank you for taking the time and letting us know about the show and catching us all up on what your doing!
You can join TAM FAM and follow Ashley Tamar Davis on twitter @thetamardavis for updates on her performances and future projects. For more information regarding her music and her Tamar Academy go to http://www.tamardavis.com .