Ashley Tamar Davis Returned Home to Star in the Hit "Motown The Musical"
Raegan Carey | 7/30/2015, 4:43 p.m. | Updated on 7/30/2015, 4:43 p.m.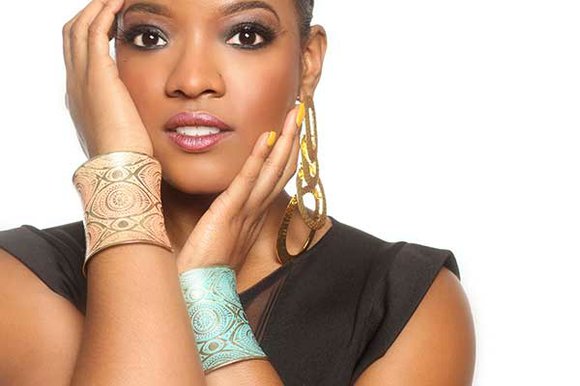 Ashley Tamar Davis is a Houstonian, HSPVA alum and Grammy nominee artist that returned home to Houston to star in the phenomenal hit "Motown the Musical." Motown the Musical is celebrating its one- year anniversary on the road with its first national tour. The show ran at Houston's Hobby Center on July 21-26, 2015.
I was lucky enough to grab a ticket to Motown the Musical's sold out first night and hear Davis's powerful vocal performance in the hit show. It was TRUELY AMAZING. I, along with the rest of the Houston audience, was blown away.
The Hobby Center stage was not the only place that Davis shared her vocals while in Houston. She made additional stops to Fleming Middle School for the Northeast Cultural Council Summer Arts in School, Delta Sigma Theta Sorority, Inc.'s 52nd National Convention and conducted numerous media interviews, of course. She also shared that she would not leave Houston without making visits to get some good ole' Frenchy's chicken and Pappadeaux's.
I got a chance to chat it up with this superstar, powerhouse vocalist, and dear friend of mind and it was a true blessing.
1. Now I hear your playing quite a few characters from the show including Esther Gordy and music icons Gladys Knight and Diana Ross. Who's been your favorite singer to portray in the show so far?
I do play Ester Gordy, Stevie Wonder's mother and Gladys knight and at any given time I can play Diana Ross and I'm so hoping to play that role. All the parts are amazing to play none of them are better than the other. All of the parts are fun to play and this show features a lot of great singing, great talent and great acting.
2. You have had quite the career and I've known you from beginning. What has been your most memorable and proudest moment?
I am a family girl especially a daddy's girl and my brothers and now my nieces and nephews those are really the joys of my life. Getting prepared for Houston is very emotional for me. I think for me that this is my moment. I think it's mainly because my entire family will be there and this will be the serious moment in my life. I have traveled and performed so many places but performing in Houston will be huge for me. I am a family girl and my proudest moment will be when my entire family comes and sees me in my hometown.
3. Anything special that you are working on for your fans?
In the process of this show and traveling and working with Tyler Perry has open so many doors for me especially with this new generation. Being here in Memphis I can't go anywhere, I have been stopped several times with supporters and fans which I call them "TAM faM" because my fans are family. I also found that a lot of young people want to get in this business, but they have no idea what it takes and what it involves and what job opportunities are there. So I launched the Tamar Academy -its a master class where I partner up with non-profit organizations and we go into the schools and expose kids to the right skills. The curriculum is pretty intense, and I just want to share what I learned- I came out of HSPVA and that experience was mind blowing.
Read the interview with Davis online at stylemagazine.com. Join the TAM FAM and follow Ashley Tamar Davis on twitter @thetamardavis for updates on her performances and future projects. For more information regarding her music and her Tamar Academy go to www.tamardavis.com.