Governor Abbott Meets With Czech Ambassador Petr Gandalovič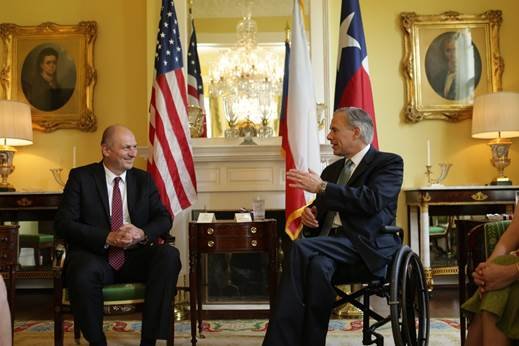 AUSTIN – Governor Greg Abbott today met with Petr Gandalovič, Ambassador of the Czech Republic to the United States, to discuss the promotion of trade and investment between the Czech Republic and South Texas. Governor Abbott also received an update on the Czech trade mission to San Antonio this past March and the State of Texas' in a seminar to promote business in Texas and Prague in February 2016.
"Since the first wave of European immigration in the mid-19th century, the Czech people have been an integral part of Texas' rich cultural history," said Governor Abbott. "I am honored to meet with Ambassador Gandalovič and look forward to continuing to build upon the strong relationship between Texas and the Czech Republic as we seek to expand our economic, cultural, and diplomatic ties."
Key Facts
· In 2014, Texas exported $312.3 million in goods to the Czech Republic, including industrial machinery, electric machinery, medical equipment, tools of base metals and chemical products.
· In 2014, Texas imported $304.3 million in goods from the Czech Republic, including electric machinery, articles of iron and steel, industrial machinery, and pyrotechnics.
· In March 2015, San Antonio and Bexar County leaders welcomed a 30-person business delegation from the Czech Republic, consisting mainly of food companies to discuss the agriculture and food production industry.
For more information, visit gov.texas.gov