Civil Rights Group Puts Up Billboards Outside of GOP Convention Location in Cleveland
ColorOfChange.org Purchased 9 Billboards Calling Attention to Crisis of Discrimatory Policing and Lack of Justice During Debates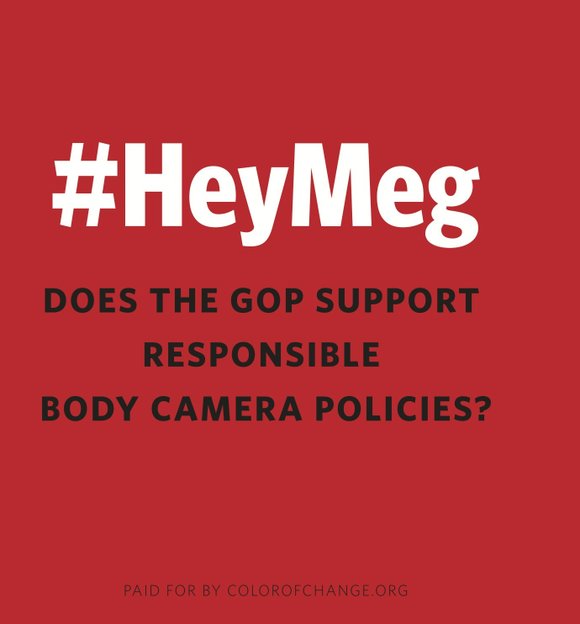 Cleveland, OH -- In light of the first Republican debate to be held in Cleveland, OH on August 6th, ColorOfChange.org, the largest online civil rights group in the country, has purchased a set of 9 billboard's, 3 print and 6 digital. The billboards highlight three cases of OH police killings where families have been denied justice or forced to wait an unconscionable amount of time for charges to be brought. The billboards, which can be seen here (http://bit.ly/1SQMirI and http://bit.ly/1IcIlZm) call to attention the murders of Tamir Rice, Tanisha Anderson, and John Crawford, while probing debate moderators to ask the questions candidates must be pushed to answer. The billboards read:
"He was a child playing in the park" #BlackAugust
"Her family called 911 in a time of need" #BlackAugust
"He was shopping for his family." #BlackAugust
HeyMeg: Does the GOP Support Responsible Body Camera Policies?
HeyMeg: Will the GOP Support the Right to Vote for Citizens Who Have Served Their Time?
HeyMeg: Should Cops With a History of Racism and Abuse Still Have Jobs?
HeyMeg: Will GOP Candidates Support a National Database Documenting Police Practices?
HeyMeg: Does GOP Support Greater Police Oversight?
The billboards come at the start of #BlackAugust, a time when organizers across the country are preparing to celebrate the growing movement to end discriminatory policing and systemic racism. One year after the tragic killing of Mike Brown there is a both an incredible opportunity to change the law enforcement policies and practices that threaten the lives of Black people every day and a great deal of work ahead.
Rashad Robinson, executive director of ColorOfChange.org, said of the billboards:
"Ohio has a long history of violent, corrupt and discriminatory policing that must be stopped. As we saw with the tragic murder of Sam DuBose in Cincinnati, a city heralded for its advances in 'community policing,' superficial reforms are not enough to keep Black and brown communities safe.
"The rare indictment of police officer Ray Tensing for the murder of Sam Dubose is at once a critical step forward and painful reminder of the countless other Black families who have lost loved ones to racist policing and will most likely never have their day in court." Robinson continued. "While police are murdering Black people with impunity, our national leaders have done little more than offer superficial reforms at best and endorse systemic racism and abusive policing at worst. It's time to hold their feet to the fire.
"Republican candidates are coming to a city and a state where thousands of Black people wake up every day not sure if they themselves or their loved ones will be harassed, abused, or killed at the hands of law enforcement. The digital billboards call on debate moderators to ask the critical questions candidates to often sweep under the rug. We need both parties -- Republicans and Democrats -- to place the issues of mass incarceration and policing at the center of their policy agendas if we ever hope to see any kind of real change at the federal level."
With more than 1 million members nationwide,ColorOfChange.org is the country's largest online civil rights group.
For more information, visit ColorOfChange.org