Redefining the Definition of Success: The Story of the Texas Black Expo
Jo-Carolyn Goode | 6/2/2015, 8:06 p.m. | Updated on 6/2/2015, 8:06 p.m.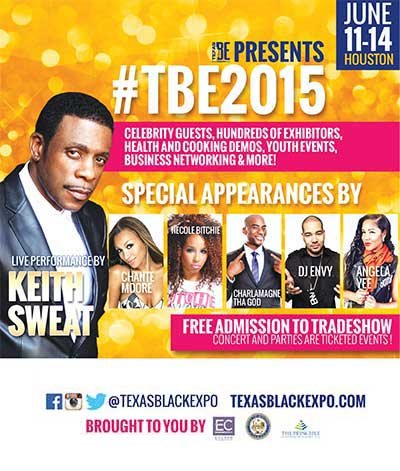 Success has to be sustainable," says Jerome Love. "If you have it today and its gone tomorrow that really isn't success." In his eyes success is more than just having money, it is being happy, fulfilled, controlling your own destiny and most importantly, having a relationship with God. So in his eyes he considers himself as a success. And for the past twelve years, his goal has been to help others achieve their version of success in business relations through the Texas Black Expo.
Following the wise words of his pastor who told him he needed to have his own business, Love established his first business at the age of 19. He quickly learned two important things as a budding entrepreneur. The first was the need for marketing and advertising to have a successful business and the second was he had no idea what he was doing. And in looking at others like him, he wasn't the only one clueless in business.
Those initial lessons were crucial stepping stones to get Love where he is today as the Founder and President of the Texas Black Expo. Keeping on the entrepreneurial mindset, Love setout to develop an expo with a two-fold purpose. One was to give his own business a platform in which to grow and the second was to be a resource for others who were novices in business to be trained and taught on how to build and grow a business.
With no model to follow, he held the first Houston Black Expo in 2004. Houstonians seemed hungry for an event of this caliber as it was well received. After a few years of holding the local expo, Love took a trip to one of the most well known and oldest black expos – the Indiana Black Expo. This was another game changer for him.
"One of the keys that we noticed was that they weren't city wide, they were state wide," said Love. With that new concept introduce to him, Love knew his next move was to take his local event and expand it to a statewide experience. "We became more focused on not just doing once a year events but more ongoing programming and developmental stuff for those across the country," said Love.
Now in its twelfth year, the Texas Black Expo has become the largest African American empowerment festival in the state. Thousands are expected to fill George R. Brown Convention Center over the course of the four-day event from June 11-14, 2015 to take advantage of all the entrepreneur networking opportunities, entertainment events, youth summit, concerts and business trade show.
From day one the goal of the Texas Black Expo has always been to strengthen businesses, inspire youth, and build better lives. "We believe that in order to have strong community, it is going to take resources, money. We feel like in order to get those resources and money the best way to do it is have strong businesses," said Love. This year's expo continues to embrace that mission on a larger scale.