Gulf Coast Marrow Donor Program Launching 90 Day Challenge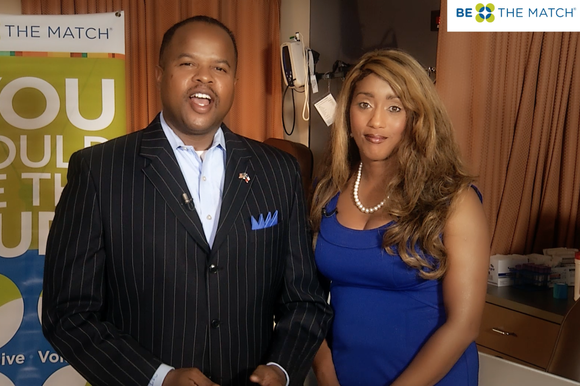 Houston-June 1, 2015-The Gulf Coast Marrow Donor Program (GCMDP) along with Rep.Ron Reynolds and Dr. Jonita Reynolds are challenging 1,000 Houstonians to sign up to save a life! From June 1 through August 29, 1,000 individuals are needed to join the Be the Match registry to potentially save the lives of hundreds of Texans waiting for bone marrow transplants.
A marrow transplant replaces a patient's unhealthy blood-forming cells with healthy ones and is a potentially life saving treatment for more than 70 different diseases, including sickle cell anemia. A bone marrow match is based on DNA, but only 30 percent of patients will find a match within their own family. For 70 percent of patients, a marrow transplant from an unrelated donor may be their best or only hope of a cure. Be The Match connects patients with their donor match for a potentially life-saving marrow transplant. But more committed donors are urgently needed.
"We lost a dear friend last year to lymphoma because she was unable to find a donor," said Dr. Reynolds. "That's why we are proud and honored to serve as honorary Chairs of the 90 Day Challenge, and we encourage everyone in the Houston are to sign up or hold a registry drive at your place of employment, your church, or social or civic organization," adds Rep. Ron Reynolds.
The GCMDP, which operates the Be the Match Registry in the Houston area, is launching the 90 Day Challenge to emphasize the need for more minority donors. Patients are most likely to match someone of their own race or ethnicity. But more diverse donors are needed. African-Americans have the lowest odds of finding a matching donor compared to all other populations. They also have the most diverse tissue types, which makes the matching process even more challenging. Out of a registry of 11 million people, only 7 percent are African American or black. Additionally, only 66 percent of African American or black patients find a donor who is willing and able to donate. Overall, more awareness is needed among all communities about the opportunity to save a life.
To sign up as a committed Registry member, people need to meet age and health guidelines and be ready, willing and available to donate to any patient in need. People can register online and at various locations around the city. More details can be found at www.marrowdonorchallenge.tumblr.com
"Everyone in the entire Houston metropolitan area is encouraged to join together to register new donors, by holding registry drives at places of employment, places of worship, social and civic organizations and other locations where people gather who want to make a positive difference in their community," said Hope Guidry-Groves, Director of GCMDP.
Be The Match is operated by the National Marrow Donor Program® (NMDP), a nonprofit organization that matches patients with donors, educates health care professionals and conducts research so more lives can be saved. To learn more about the cure, visit BeTheMatch.org or call 1 (800) MARROW-2.