Lexus 9830A NX is Branding with an Edge
Jo-Carolyn Goode | 6/3/2015, 10:59 p.m. | Updated on 6/3/2015, 10:59 p.m.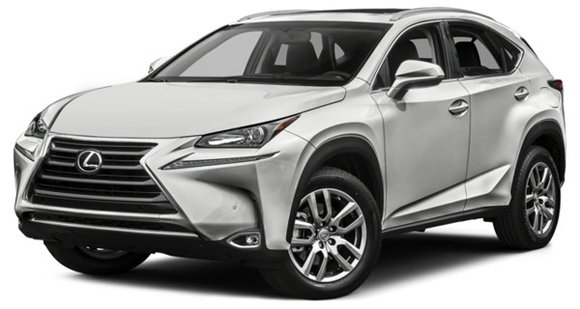 A brand is what defines you. It helps formulate the first thought that comes into people's mind when they hear your name. In a way it can set the tone for the overall business. The brand of Lexus has always been one associated with words like perfection, finest, and exceptional. However, edgy never crossed my mind until I reviewed the 2015 Lexus 9830A NX 200t F Sport.
I heard a lot of talk during the week I had the Lexus 9830A NX 200t F Sport. People said things like, "I have never seen that before," and "When did Lexus start getting aggressive?" Heads were turning and eyes were popping as I went to and fro. I couldn't help but joined them. The front half resembles that of an exotic sports car while the back half has more of that traditional SUV look but with a lot more style. Lines were not smooth but sharp. It gave off a vibe of "I don't mess around. I get straight to the point." The atomic silver color with tinted windows just enhances the overall aggressiveness of the design. It is a real eye catcher.
Although it looks like it goes fast, pick up is not fast like a jolt of lighting but you won't pull off grandma slow either. The NX glided across the road giving a smooth and comfortable ride. There were three driving modes, normal, Eco-setting, and Sport. I mainly kept it on the Eco-setting for the duration.
My test vehicle was equipped with a 2.0 liter turbo 18-valve DOHC engine that had 235 horsepower and 258 lb-ft torque. EPA fuel economy estimates are 22-mpg city and 28-mpg highway for a combined mpg of 25. It has sport-tuned suspension and F Sport steering wheel with paddle shifters to excite the drive. Airbags are everywhere for the front, knee, and side. Other safety whistles include the anti-lock braking system and blind spot monitoring. I found the rear cross traffic alert most helpful since it can be tricky sometimes when changing lanes.
The interior of the NX was a work of technology genius. The controls for the entertainment center tripped me up a bit. I had gotten use to Lexus using the mouse-like controls but now they have change to a trackpad type. Eventually I got the hang of the technology. Everything in the center console was laid out beautifully. My NX had a back up camera, 8-speaker Lexus display audio system, HD radio with iTunes and real time traffic and weather updates, dual zone climate controls, and navigation package that displayed on a 4.2 full color monitor. Technology was really a star with the Bluetooth capability, the Lexus app, and voice enable app that lets one do stuff like surf the Internet (although I didn't take advantage of using that feature.)
One reason driving the NX was so enjoyable was due to seating. The driver seat has 2-way lumbar and 10-way power setting while the passenger had 8-way power settings for individual comfort. I especially enjoyed the heated and cool seat temperature setting. With the back and forth climate of Houston's weather this is a Godsend in any vehicle. Backseat riders were not short change as space was ample with lots of leg and headroom.
I hated to see the Lexus 9830A NX 200t F Sport leave my driveway. I wanted to follow it straight to the dealership and fork over the $43,988 for the cost of my test vehicle but I was a little short on cash. That was too bad for me but it doesn't have to be for you. Check out the 2015 Lexus 9830A NX 200t F Sport. Base price starts at $38,580 and goes up when adding your personal touches. For more information, visit www.lexus.com.