TUTS' Cinderella Casts a Spell to Believe in Yourself
Raegan Carey | 6/4/2015, 9:09 a.m. | Updated on 6/4/2015, 9:08 a.m.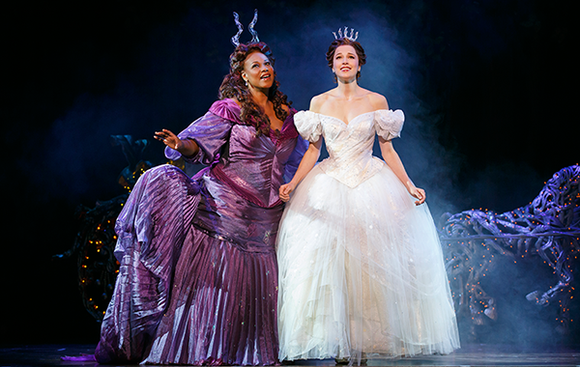 Generations upon generations have heard the classic tale of Rodgers and Hammerstein's Cinderella of a poor girl who is treated badly but finds her prince and true love in the end. TUTS brought an adaption of Cinderella to Houston and turned the traditional tale on its head with a modernized twist.
TUTS performance of Rodgers and Hammerstein's Cinderella was a wonderful, energetic performance by a truly multitalented cast. I arrived expecting the traditional fairytale of Cinderella, but what was performed was a story so much more exciting. The show was entertaining for all ages of course and I spotted many little girls in attendance with Cinderella costumes on, but this was not just a show for kids.
TUTS's adaption included witty adult humor and a more interesting story line than a Prince rescuing a want to be Princess and I was more than thrilled with that. Gone were the outdated messages of a poor, beautiful girl hoping to be saved by Prince Charming, instead we got a story that went much deeper than that and taught us so much more.
This Cinderella included a revolutionist that wants to change the world, a likeable stepsister looking for true love, a young prince on a path of self-discovery, and an underestimated Cinderella that doesn't leave her shoe at the famed ball and is encouraged to believe in herself and make her own dreams happen.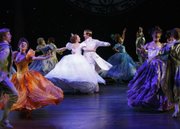 This is a special rendition of Cinderella filled with many unique twists and turns from the original story that it is definitely worth seeing. There is also magic throughout the entire production with talking trees, whimsical puppets and an enchanting Godmother so full of wisdom and bewitching charm she will indeed cast a spell on you.
The dance numbers by choreographer Josh Rhodes were just as fantastic and included lots of high kicks, jumps, and spins to keep you on your toes, so expect a very talented dance ensemble with a high energy performance. The costumes designs were truly amazing, from the imaginative hair and wigs (Paul Huntley), to Cinderella's magical ball gowns and of course lets not forget the beautiful Venetian glass slippers that wowed the audience. Costume designer William Long won a Tony award for his vision and creativity in this production and he is truly a gifted artist.
I was very impressed with the entire casts' ability to both sing and dance. This was one of the most skilled casts I have ever seen. The show was well carried by many of the lively, acclaimed musical numbers with songs from the original production written and composed by Richard Rodgers and Oscar Hammerstein.
Stand out performances included Audrey Cardwell who portrayed a refreshingly, sweet Cinderella (Ella), and Andy Huntington Jones as the young, handsome Prince (Topher). Their talent really showed through in musical ballads "Loneliness of Evening" and "Do I Love You Because Your Beautiful", both actors' vocal range was impressive and outstanding. Beth Glover (Madame) added to the talented cast with her eccentric version of a mean stepmother and stepsister Aymee Garcia (Charlotte) stole every single scene with her character's hilarious dresses and comical wigs. Her character's portrayal was so full of spunkiness she brought much humor to the play and she kept the audience roaring in their seats. Most impressive of the night however, was bewitching Godmother Kecia Lewis (Marie). Her vocal performance was mesmerizing and she captivated the audience. Her standout powerful, opera- filled vocals soared in songs "It's Possible" and "There's Music in You." Her performance was so well received she received a deserving standing ovation at the end of the night.
Cinderella opened with its 250th show at the Hobby Center to Houston audiences. The show is currently on a national tour and will be running at the Hobby Center through June 7th, so get your tickets now! It was an incredible show and will be entertaining for both adults and kids so I recommend you bring the entire family to this one!
For more information, visit www.tuts.com.