Man's Best Friend or Foe?? Meet Manuel Golden, K9 Obedience Specialist of TyCalK9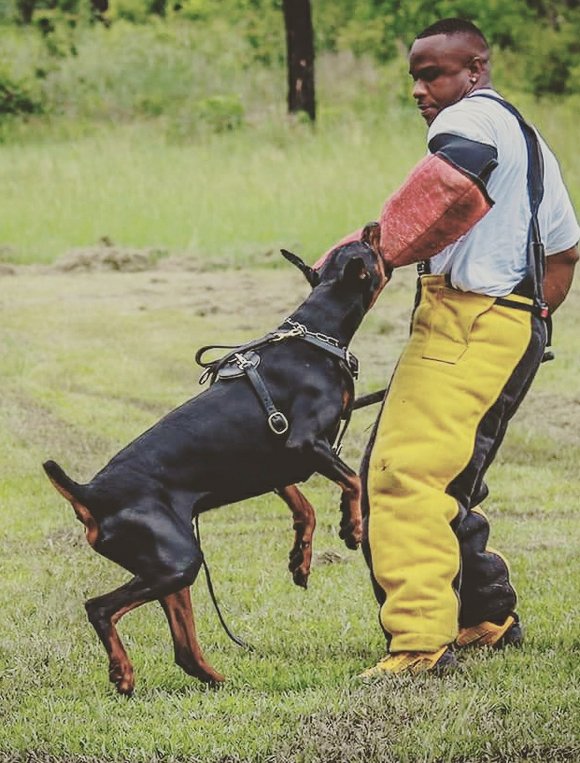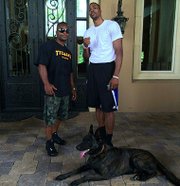 Dog lovers have a special place in Houston. You can virtually see dog enthusiasts all over the city: enjoying doggy parks at Discovery Green, an afternoon stroll at Hermann Park, or a late night pick-me-up at Starbucks. These canine companions have a special place in their master's heart where they have become part of the family, provide security and protection, and even enjoy the selfie shout-outs.

Manuel Golden is the founder of TyCalK9. He is a K9 Obedience Specialist who specializes in obedience training, security/protection, and importing your favorite pooch. The present Houstonian by way of Phoenix, Arizona has been training dogs for nearly two decades. He gained the love for man's best friend growing up as an adventurous kid in the neighborhood, and being mentored by Kevin Johnson (retired NBA All Star point guard for the Phoenix Suns, and now the First African American mayor of Sacramento, CA who is an avid dog lover). Manuel has fond memories caring for the basketball star's pet, along with gaining experience as a teen with the meanest dog in the veterinarian's office. It was these opportunities that solidified his passion to work with "man's best friend." Who would have thought that a man who has a degree from the University of Arizona would let his passion flourish into pure bred entrepreneurship? Well he did.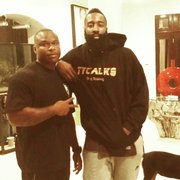 RB: What are the benefits of training man's best friend as a pup?
MG: Puppies need exposure, so they aren't fearful of their surroundings. Puppies are very child-like and need to enjoy positive experiences in their environment. If you start them out early where they can socialize with people and children, this will limit unnecessary aggression and fear when they mature to an adult.

RB: Most people fear dogs around children and small babies, how do you dispel that myth?
MG: This falls right back to socialization. Puppies must have interaction and positive socialization with people and young children. The best dog to have around young babies or children is a fully trained dog, if not they are very dangerous and will rely on their instinctive nature. The best dog for any owner is a dog that has been taught and trained period! Remember, most dogs bite out of fear so the lack of obedience training is a dangerous pet.

RB: I am a single woman living in an apartment in the market looking for a dog which one should I chose?
MG: Your dog purchase should depend on your lifestyle, but remember all breeds need daily exercise of at least an hour a day, and lots of TLC. Some of the questions you should ask before your purchase are: Are you a homebody, active, outdoorsy, or leave your home for long periods of time? Your active and very friendly dogs are a Labrador (not great for protection though), Bichon or Yorkie (a toy breed), or an English Bull Dog (which can be lazy at times). If you are in the market for an active breed who can provide protection please consider a German Shepherd or a Bullmastiff . These animals require lots of attention, exercise, and are great protection dogs.

RB: Since you teach obedience and train dogs for security/protection what partnerships and affiliations do you have?
MG: Since starting TyCalK9 in Houston in 2012, I have established a partnership with the HPD K9 Unit which is under the direction of Capt. Kirk Maxheimer. I recently conducted a K9 Patrol Demonstration with the Missouri City Police Dept S.W.A.T. Team. I look forward to establishing additional partnerships with organizations like the USPS, Fed Ex, and UPS because so many of their drivers and postal workers are susceptible to dog bites from fear and the lack of knowledge.

RB: Do you have a specific breed for security/protection purposes?
MG: My favorite dog to train for security and protection is the Belgian Malinois (pronounced /ˈmælɨnwɑː/) It is a medium sized Belgian Shepherd dog. I prefer this dog because they are easy to train, very intelligent, and thrive on working and training hard.

Since they are very obedient, they are used by many federal agencies for the detection of explosives, search and rescue missions, and narcotic searches. The Belgian Malinois is the official guard dog of the Secret Service, and is used to guard the grounds of the White House and President. This is also the dog of choice for my client, Houston Rockets Center Dwight Howard.
RB: Who is the typical TyCalK9 client?
MG: Honestly anyone! It can be a 75 year old man who needs a dog trained for protection, a young couple who has moved into their first home and needs a dog house trained, to a dog lover who wants to have a pure bred imported. My team of K9 obedience specialists provide the best training and customer service to every client. We pride ourselves in being the "Bentley" of obedience training, security/protection, and importing.

My clients vary from single women, medical professionals, executives, to Houston Rockets players such as: Dwight Howard, James Harden, Jason, Terry and Trevor Ariza.

RB: Dog training is rather intense, what do you do in your spare time?
MG: Since this profession is so strenuous, I have to stay fit and exercise daily. I enjoy spending time with family, researching dog psychology, and staying current by reading books by famed dog trainers such as: Gottfried Dildei, Bart Bellon, and Micheal Ellis.


Most dog bites out of fear...... Manuel Golden

For More Information: www.tycalk9.com
Twitter: @tycalk9
IG: tycalk9
Email: tycal0308@gmail.com