The Ensemble Theatre Joins National Stage Reading of Home by Samm-Art Williams
Over 30 Institutions Participating In A Salute to African American Theatre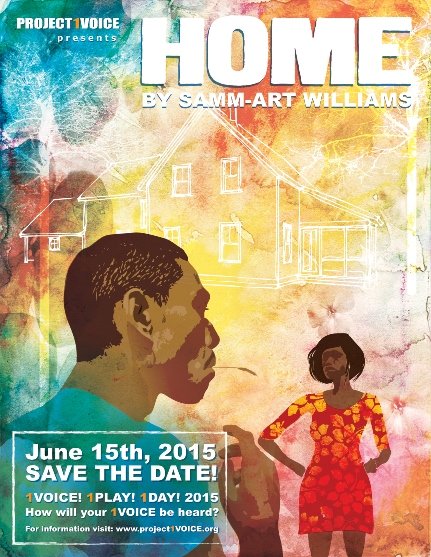 HOUSTON (June 9, 2015) –- The Ensemble Theatre joins National Stage Reading of Home, by Samm-Art Williams, directed by Eileen J. Morris, and featuring Braodway actors Brandon Dirden and Crystal Dickinson, and actress Samantha West, Monday, June 15, 2015, 6:30 P.M. 3535 Main Street, Houston TX 77002.
Over 30 African American theatre companies and diverse institutions will take part in this experience featuring prominent and local actors. Since its inception, the Projec1Voice National Stage readings have garnered participation beyond U.S. boarders. Theatres abroad have joined in this annual event and helped create an international community of artists and arts organizations.
Many celebrity and other highly recognized artists will return to their HOME-towns to participate in what Project1VOICE refers to as HOME-comings. Houston native and Broadway actor Brandon Dirden will return to The Ensemble Theatre to participate in the reading. Brandon and his brother Jason, who is also a Broadway performer, were recognized together as The Ensemble Theatre's 2009 Black Tie Gala Rising Star Honorees. Brandon will be joined by his wife, Broadway actress Crystal Dickinson, and actress Samantha West.
HOME deals with the coming of age of a young black man from rural South Carolina. The action begins on the small farm that Cephus Miles, an orphan, has inherited from his family. Young and strong, he is content to work the land—until his childhood sweetheart rejects him and goes off to college. Not believing in the Vietnam War, Cephus is imprisoned as a draft evader for refusing to serve. By the time he is released, Cephus has lost his land to the tax collector so he heads north to build a new life. With a good job and a slinky new girlfriend, he finds the big city exciting and rewarding. But soon after, the dream begins to fade—Cephus loses his job and becomes involved in drugs and prostitution. Pulling himself together, he returns to South Carolina and settles back on the land with his old sweetheart. Despite all, he has never lost his joyous goodwill, his indomitable spirit and the conviction that one day his quest for fulfillment will be rewarded.
National Stage Reading of:
Home
By Samm-Art Williams
Directed by Eileen J. Morris
Monday, June 15, 2015, 6:30 P.M.
Tickets: $15
The Ensemble Theatre
3535 Main Street, Houston TX 77002
713-520-0055
The Ensemble Theatre featured cast members include: Brandon Dirden, Crystal Dickinson, and Samantha West.
This national stage reading was started five years ago by a New York based arts resource organization called Project1Voice as a way to raise awareness of the importance of sustaining African American theatre. Every year during the week of Juneteenth a stage reading is held that features the work of an African American playwright.
For more information about 1VOICE/1PLAY/1DAY and other programs and events offered by Project1VOICE visit www.project1VOICE.org.
About the playwright
SAMM-ART WILLIAMS was born in Burgaw, North Carolina. He is an American playwright and screenwriter, and a stage and film/TV actor. He entered New York City theater as an actor in 1973, performing with New York's famed Negro Ensemble Company. Much of his work as writer concerns the African-American experience. He was nominated for a Tony Award and a Drama Desk Award for his play Home (1979), which moved from the Negro Ensemble Company to a Broadway production in 1980. Among his television credits Williams wrote the PBS productions Kneeslappers and Experiment in Freedom; episodes for the series Cagney and Lacey, The New Mike Hammer, Miami Vice and The Fresh Prince of Bel Air and the NBC special Motown Returns to the Apollo (1986), among other work. He received two Emmy nominations for his work for TV series. Among his other plays are The Dance on Widows' Row, The Waiting Room and Montford Point Marin.