Exclusive Branded "Oceanaire" Oysters Arrive at The Oceanaire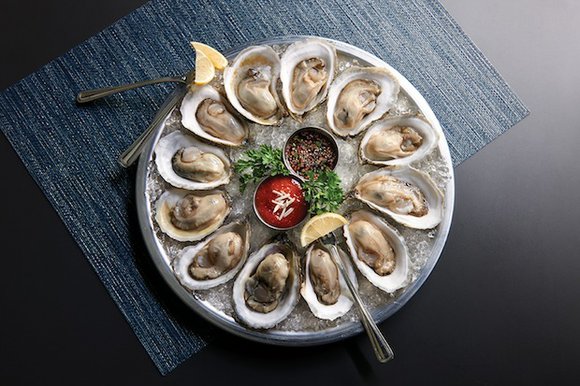 Named after the seafood restaurant, "Oceanaire Salt Oysters" are a proprietary new oyster raised for and sold exclusively by the Oceanaire Seafood Room
HOUSTON, TX (June 8, 2015) – The Oceanaire Seafood Room is pleased to announce that one of Cape Cod's finest and most flavorful oysters is now being offered exclusively at the high end seafood restaurant. Raised & harvested by an independent, small, boutique oyster grower in the cold, nutrient-rich waters on Southern Cape Cod, these salty, petite, and crisp specialties are being iced and shipped via Federal Express overnight to the Oceanaire Seafood Room and will be available on their daily menu year-round for guests to savor and enjoy. Shellfish aficionados are encouraged to try these unique and proprietary petite oysters shucked and placed on a bed of crushed ice, served raw on the half-shell.
"Straight from the waters of Southern Cape Cod, these oysters are full of flavor for their petite size, bracingly briny with an upfront sea salt blast that finishes with a lingering sweetness and minerality that really sets them apart, so many flavors packed into such a small oyster!" said Wade Wiestling, Vice President of Culinary Development. "We look forward to sharing these exclusive seafood delicacies with our most loyal guests as well as our first time guests and exploring other unique ways to prepare them on our menu throughout the year."
Whether raw, baked or grilled on the half shell, oysters have a host of health benefits including brain-boosting omega-3 fatty acids, calcium, magnesium and iron and are essentially a fat-free, low calorie protein. This vibrant mollusk is appealing to seafood lovers everywhere for its delicate, toothy texture, rich flavor and salty liquor that leaves taste buds craving more.
The Oceanaire offers over 25 species of seafood and shellfish tailored to local market tastes. Only top-of-the-catch fish from the most reputable suppliers are served and each is carefully crafted to ensure the restaurant's high standards of quality and flavor are exceeded in every dish. For more information or to make reservations, please visit www.theoceanaire.com.
ABOUT LANDRY'S, INC.
Landry's, Inc., wholly owned by Tilman J. Fertitta, is a multinational, diversified restaurant, hospitality, gaming and entertainment company based in Houston, Texas. The company operates more than 500 high-end and casual dining establishments around the world, including well-known concepts such as Landry's Seafood, Bubba Gump Shrimp Co., Rainforest Cafe, Mitchell's Fish Market Restaurants, Morton's The Steakhouse, The Oceanaire, McCormick & Schmick's Seafood, Chart House, Saltgrass Steak House, Claim Jumper and Mastro's Restaurants. Landry's also operates a group of signature restaurants, including Vic & Anthony's, Grotto, Willie G's and others. Landry's gaming division includes the renowned Golden Nugget Hotel and Casino concept, with locations in Las Vegas and Laughlin, Nev.; Atlantic City, N.J.; Biloxi, Miss.; and Lake Charles, La. Landry's entertainment and hospitality divisions