Celebrate Dad with Father's Day Themed Homestand at Minute Maid Park
Picnic in the Park, Father's Day giveaways, Faith and Family Night and a special ticket promotion headline homestand; Carlos Correa to make Houston debut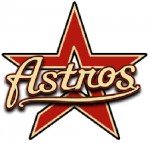 HOUSTON, TX - The first place Houston Astros, who currently have the most wins in the American League with 34, kick off a five-game homestand this Friday. The Astros host the Western Division rival Seattle Mariners for a three-game series, Friday, June 12 through Sunday, June 14. Following that series, the Colorado Rockies come to Minute Maid Park for two games of Interleague play on Monday, June 15 and Tuesday, June 16. Throughout the homestand, the Astros are celebrating dads everywhere with Father's Day-themed events, giveaways and special ticket promotions. Additionally, Astros top prospect Carlos Correa will make his Houston debut on Friday.
Last week, the Astros and the Astros Foundation, in collaboration with food and beverage partner Aramark, collected food and monetary donations for the Houston Food Bank to aid in the relief efforts following the historic floods that hit Houston in late May. The Astros Foundation also hosted a raffle during the series, resulting in a $10,000 donation to the Houston Food Bank during a pregame ceremony on Thursday, June 4. And on Friday, June 5, the Astros and Aramark partnered to donate 2,000 lunches for those currently displaced in the Greater Houston Area staying in local shelters serviced by the American Red Cross.
Jose Altuve continues to lead the All-Star AL second base vote, but it's a tight race! Astros fans, don't forget to vote for reigning AL Batting Champion Jose Altuve to make sure he's the All-Star Game starter! To vote, visit www.astros.com/vote and #VoteAltuve! If you're at Minute Maid Park, vote using the Ballpark app for a chance to win great Astros prizes.
Friday, June 12 - 7:10 p.m. vs. Seattle
Beginning on Friday, the Astros get in the Father's Day spirit with an Astros gym bag giveaway for 10,000 fans, presented by Houston Methodist.
Big and Bright Friday Night returns with a postgame fireworks display, presented by Marathon Oil Corporation. This week's fireworks show will feature a Country music theme.
HomeAid Houston's Project Playhouse will continue to be on display at Minute Maid Park at the top of section 105 until Wednesday, July 1. The "Highland Hill County Playhouse" built by Highland Homes, features air conditioning, a flat screen TV/DVD combo, and a kitchenette. Raffle tickets for a chance to win the playhouse will be on sale at the same location. This is the ninth season that the Houston Astros and HomeAid Houston have partnered for Project Playhouse. Money raised from Project Playhouse furthers HomeAid's mission to build new lives for homeless families and individuals through construction and community outreach.
Friday night is also Happy Hour at Minute Maid Park with $5.25 specials at the St. Arnold Bar in left field and Day Fresh Budweiser at the Budweiser Patio.
Saturday, June 13 - 3:10 p.m. vs. Seattle
On Saturday, Faith and Family Night returns to Minute Maid Park. Following that afternoon's 3:10 p.m. contest, Astros pitchers Collin McHugh and Josh Fields will give live faith testimonies, and All-Star second baseman Jose Altuve will give a live faith testimony in Spanish prior to a postgame concert by AMA and Dove award-winning Christian rock band MercyMe. For more information, please visit www.astros.com/faith.