Graduates, Do You Have the Most Important Quality Interviewers Look For? Here Are Seven Ways to Show Off Your Entrepreneurial DNA
Michael Houlihan and Bonnie Harvey explain why entrepreneurial DNA is the most important quality a job seeker can possess and share seven ways to demonstrate it during an interview.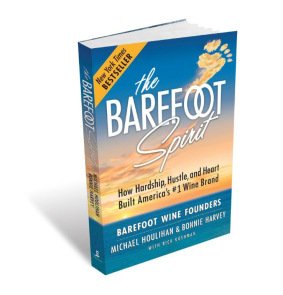 Forestville, CA (June 2015)—Now that the high of your college graduation is wearing off, the urgency to find a job is setting in. (Student loan payments wait for no grad!) But as you fine-tune your résumé and prep for common interview questions, keep in mind that it may take more than "just" the right skills and knowledge to get a job offer. According to Michael Houlihan and Bonnie Harvey, the most important qualification a job seeker can possess in today's market is entrepreneurial DNA.
"In today's ever-changing business world, adaptable and motivated self-starters are what give companies their most valuable competitive advantage," says Houlihan, coauthor along with Harvey of The Entrepreneurial Culture: 23 Ways to Engage and Empower Your People (Footnotes Press, 2014, ISBN: 978-0-990-79370-0, $9.95, www.TheBarefootSpirit.com) and the New York Times bestseller The Barefoot Spirit: How Hardship, Hustle, and Heart Built America's #1 Wine Brand (Evolve Publishing, 2013, ISBN: 978-0-988-22454-4, $15.95). "So in addition to looking at the classes you took and the grades you made, your interviewers will be trying to determine how self-reliant, engaged, empowered, and innovative you are. Employers know that they can teach you any technical skills you may currently lack if you have the foundational qualities they're looking for."
So, how can you demonstrate to potential employers that you have an entrepreneurial mindset? Here, Houlihan and Harvey spotlight seven tactics:
Show that you're willing to bet on yourself. Some employees simply want to show up at work for the allotted time, do what they're told, and collect a paycheck. Sure, they get the job done—but they don't look for ways to better satisfy customers, improve processes, or make more money. On the other hand, entrepreneurs (and employees who think like them) are constantly looking for ways to increase their income, profits, and growth. In other words, they bet tomorrow's paycheck on today's ideas and effort.
"Tell your interviewer that you don't just want to get paid on attendance," recommends Harvey. "Express your willingness for your performance and your paycheck to be directly linked. If you have them, share anecdotes that demonstrate your self-confidence, self-reliance, and ability to positively affect outcomes."
Pay attention to your body language. You know that it's important to present a professional appearance at job interviews, and to that end you have a brand new suit hanging in your closet. Don't forget that interviewers will be paying attention to your posture and to how you move, too! Do you shuffle and drag your feet? Do you flop down into chairs and slouch? Do you fidget and pick at your clothing? Or do you move with hustle, determination, and purpose? Keep in mind that when people sit erect and lean slightly forward, they're indicating engagement and interest.
"Entrepreneurs' confidence shows in their posture and their body language," comments Houlihan. "They display self-assurance when they are interviewed and scrutinized by strangers. These 'tells' are physical evidence of your attitude and self-esteem."