Harris County's Chris Daniel Kept Courts Open Following Floods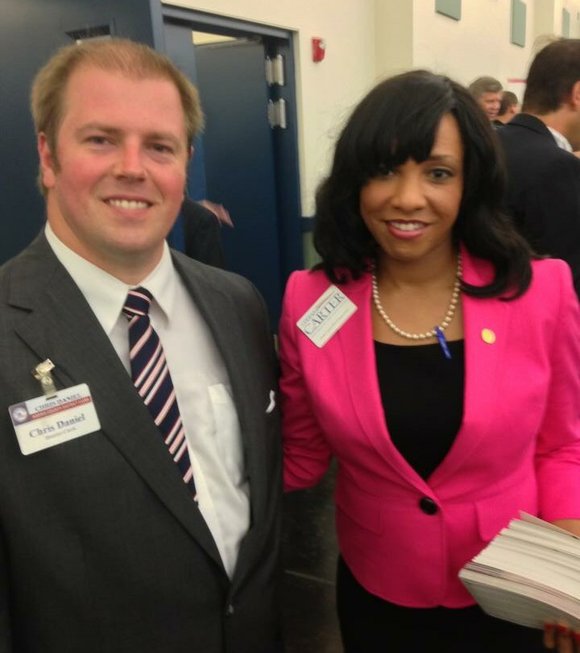 Eagle Scout engineer turned entrepreneurial lawyer turned Harris County District Clerk Chris Daniel's Texas can-do spirit kept justice on schedule following Memorial Day floods last month.
Harris County justice didn't miss a beat thanks to Daniel's lauded leadership. Daniel ensured criminal cases continued to be heard in temporary courtrooms in the Juvenile Justice Center.
Daniel's office and the county court system set up temporary courtrooms as part of the county's disaster response plan – an event for which county staffers train annually, Daniel said Tuesday at the weekly Greater Houston Pachyderm meeting.
"After drilling annually for the past four years, we were prepared for this eventuality," he said.
Daniel, responsible for running 76 courts across Harris County with about 450 employees and a $32 million budget with clerks, explained, "We're happy with the outcome. In this crisis that was watched world-wide and declared truly an emergency by everyone starting with Harris County Judge Ed Emmett to Gov. Greg Abbott and even President Barak Obama our courts ran smoothly even with taking on unprecedented water, an occasional power outage, a fire alarm and other hurdles."
Daniel said the 20-story Criminal Justice Center, which houses three dozen misdemeanor and felony courts, re-opened Thursday morning (May 28th). Jury service resumed Wednesday morning (May 27th) after being called off for those who had received summons for Tuesday (May 26th).
A storm drainpipe on the side of the Criminal Justice Center on Franklin Street broke during the massive rainstorm Memorial Day night causing water to enter and flood the building's basement garage. Water then flowed into a tunnel connecting the Criminal Justice Center to the Jury Plaza in the county's courthouse complex.
Daniel was there his boots literally on the ground as massive, vault-like floodgates kept the water from entering the Jury Plaza.
"The flood gates did their job, I'm happy to say," said Daniel, who arrived at the complex to help in flood prevention efforts early Tuesday morning. "The Jury Plaza is a beautiful, new building, and I would have hated to have seen it damaged."
While flood waters stagnated deputies brought shackled prisoners from jail to two first-floor courtrooms in the Juvenile Justice Center. Judges, Daniel's clerks, prosecutors and defense lawyers carried on as if it were business as usual, resetting cases, accepting guilty pleas and keeping defendants in check despite a half-dozen deputies subduing a defendant who began screaming and kicking when he did not like the outcome of his hearing. Daniel said, "Training paid off – the temporary courts kept the misdemeanor courts up and running. Judges didn't fall behind in their dockets."
Daniel's history – and his future it's figured – is and has been defined by his not letting circumstances dampen his results.
Daniel, a Houston native, is known famously countywide for his exhaustive attendance annually and participation in MLK Day Parades, Black History Month and Juneteenth celebrations, Cesar Chavez, Cinco de Mayo, Fiestas Patrias and Lunar New Year observations and active attendance at Second Baptist Church, Rotary Club, Big Brothers Big Sisters, Houston Food Bank and Houston Live Stock and Rodeo.