Missouri City Preparing for Possible Rain Storms, Officials Urge Residents To Avoid Flooded Roads: "Turn Around, Don't Drown"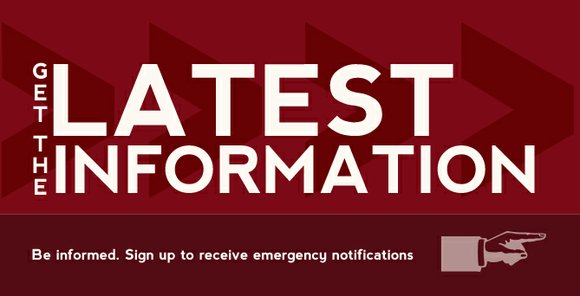 Missouri City staff are preparing for a dangerous flood threat that could develop Monday evening and continue through Wednesday as a Gulf of Mexico tropical disturbance heads toward the Texas coast.
Public Safety and Emergency Management officials with the City are closely monitoring this week's rain and thunderstorm forecast. Road closures are possible as flooding may occur. Missouri City Emergency Management Officials encourage residents to stock up on emergency food and water supplies and to closely monitor news reports during this period of heavy rainfall and flooding. As major thoroughfares and neighborhood streets are closed due to high rainfall, residents are asked to turn around, don't drown: to assure their safety, residents are asked to err on the side of caution when approaching high water in a vehicle and are encouraged to find an alternate route.
Residents should avoid parking in the street to create a clear path for Public Safety vehicles and to prevent damage to their vehicles. Motorists are reminded that a mere six inches of fast-moving flood water can knock over an adult. It takes just 12 inches of rushing water to carry away a small car, while two feet of rushing water can carry away most vehicles. It is never safe to drive or walk into flood waters.
Fort Bend is a pass through county for evacuations. State Highway 6, U.S. Highway 59 and U.S. Highway 90A are designated as hurricane evacuation routes and these routes affect Missouri City in both geographic areas of Fort Bend and Harris Counties.
Local officials also stress the importance of keeping a list of informational sources for reference. Recommendations include:
Missouri City Police and Fire Departments: 911 or 281.403.8700

CenterPoint Energy: 713.207.2222

American Red Cross, Fort Bend County Branch: 281.342.9480

Enable Fort Bend (www.enablefortbend.com); 281.238.3514; the agency assists individuals with functional and medical needs during an emergency or disaster
To receive updates and alerts on flood safety and other emergency management issues, visit www.MissouriCityReady.com, the City's official emergency management website. News about current flood updates and road closures is available in real-time via @MissouriCityEM on Twitter.
For more information about Missouri City, please watch the City website: www.missouricitytx.gov, like us on Facebook—fb/MissouriCityTX, follow us on Twitter and Instagram—@MissouriCityTX and watch Missouri City Television (Ch. 16 on Comcast and Ch. 99 on AT&T U-verse).
For more information about Missouri City, please watch the City website: www.missouricitytx.gov