Are You a Big Believer?
Art show depicting the impact of what can happen when children have positive mentors in their lives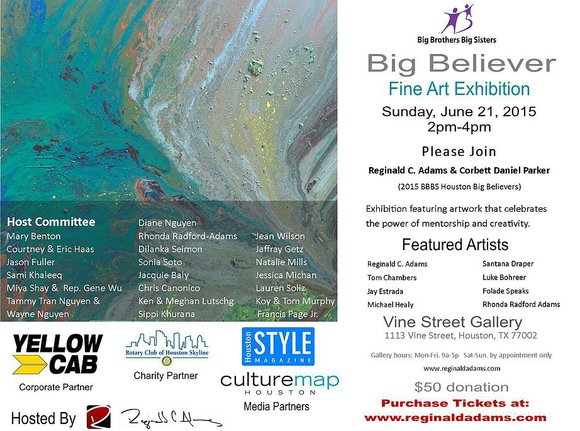 Big Brothers Big Sisters is not your typical organization. They help thousands of children realize their potential and build their futures. They nurture children and strengthen communities. And they couldn't do any of it without people like us. Each time Big Brothers Big Sisters pairs a child with a role model, they start something incredible: a one-to-one relationship built on trust and friendship that can blossom into a future of unlimited potential.
In Houston alone, more than 10,000 kids are served annually but over 1,000 kids are still looking for mentors. They are looking for people just like you and I to shine some light on opportunities and experiences that will help shape their lives.
Each time I get to work with my 12 year old little brother, Santana Draper, I know that I am making a direct impact on his future. He is a very passionate young man and his artwork means a lot to him. He loves to show me his new drawings and paintings. During the past year that we have been workiing together has creative abilities have blossomed. A year ago, I would have never guessed that I would be creating and exhibiting artwork with a 12 year old kid. Today, I am thrilled to have met Santana and his family and to have him a part of my family.
In October of 2014, BBBS asked myself and four others to become Big Believers. As "brand ambassadors," we were challenged with helping get the word out about the importance of mentoring, and the needs of BBBS, to help match over 1,000 kids with worthy adult mentors. In our pursuit to raise awareness about this cause, I've joined forces with Big Believer, Corbett Daniel Parker, and we are hosting a fine art exhibition featuring artwork co-created by mentors and their mentees.
On display will be photographs, paintings and other mixed media artworks that highlight the power and impact of what can happen when children have positive mentors in their lives. All of these artworks are available for purchase and proceeds from the sales of the works support BBBS and the artists.
Featured Artists Include:
Santana Draper Luke Bohreer Jay Estada Tom Chambers Rhonda Radford Adams Heiress Radford Folade Speaks Ila Speaks-Love Ori Speaks-Love
Michael Healy
Proceeds from sales of artwork supports our Big Believer campaign and local artists. For art sales contact info@reginaldadams.com or call 832.208.1549
Join us, Sunday June 21, 2015 from 2p-4pm to celebrate the power and impact of mentorship and creativity.

The exhibition is located, 1113 Vine Street, Suite 140, Houston, TX 77020.
Parking is free and easily accessible.
This is a fundraiser for Big Brothers and Big Sisters of Greater Houston. Proceeds from the entry fee and sales of the artwork will support the mission of BBBS and the artists. $50 donation can be made here. Thank you for your support!
For more information, visit http://www.reginaldadams.com/#!big-believer/cor0