Latin Songwriters Hall of Fame Announces their 2015 Inductees
The non-profit organization recognizes six of the most influential Latin songwriters and composers of all time.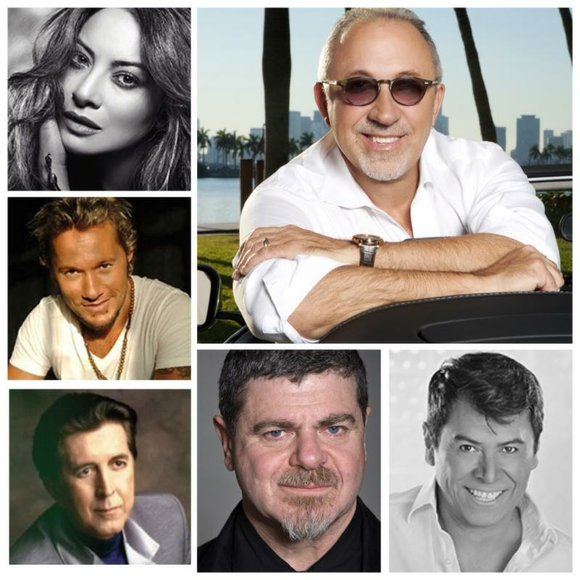 Miami Beach, Florida (June 16th, 2015) - Musical giants Hector Ochoa Cardenas, Emilio Estefan, Myriam Hernandez, Gustavo Santaolalla, Alvaro Torres and Diego Torres will become the latest Latin Songwriters Hall Of Fame inductees at the 3rd annual star-studded LA MUSA AWARDS to be held at The Fillmore Miami Beach Jackie Gleason Theater on Thursday October 15th, 2015.
Latin Songwriters Hall Of Fame 2015 Inductees:
HECTOR OCHOA CARDENAS (Colombia)
Originally from Antioquia, Hector Ochoa Cardenas is one of the most recognized Colombian songwriters throughout the world. His music career began with the band ¨El Trio De Oro¨ that became very successful in the local radio stations. In 1961 his song ¨Bendito Amor¨ recorded by the tenor Victor Hugo Ayala paved his path to become a Colombian songwriter icon. Local hits like ¨Mi Bella Medellín¨, ¨Muy Antioqueño¨, ¨Tu Lo Mejor De todo¨, ¨Pase Lo Que Pase¨, "Una Serenata Para Ti¨, ¨El Amor No Acaba¨ and ¨Después Que Me Olvide De Ti¨, are not only part of her unique lyrics but part of the Colombian music DNA. However, it was his song ¨El Camino De La Vida¨ the one that consolidated him as one of the best Colombian songwriters, selling over 2 million copies and selected as ¨the best Colombian song of the 20th century¨ with more than 40 versions recorded as of today. Ochoa Cardenas created the non-profit organization ¨Antioquia Le Canta A Colombia¨ that promotes Colombian music as well as local folk singers and songwriters.
EMILIO ESTEFAN (Cuba)
Emilio Estefan,19 time GRAMMY® Award-Winning Producer, Composer, Musician, who's passion, unquestionable faith, and ability to keep alive his Latin roots in everything he does, have made Emilio's vision a trademark, a unique sound and a symbol of credibility and prestige. Emilio has been instrumental in shaping, developing and directing the careers of his superstar wife, Gloria as well as Shakira, Ricky Martin, Marc Anthony, Jon Secada, Alejandro Fernandez, Thalia, Carlos Vives, and Jennifer López, among many others. His ability to connect with their talent, expression and creativity has been vital in establishing a musical presence second to none. He has written chart topping songs that have become international hits like; "Coming Out Of The Dark,"Con Los Años Que Me Quedan","No Llores", "You'll Be Mine (Party Time)", "Somos El Mundo", "El Ultimo Adios", "Por Si Acaso No Regreso" (Celia Cruz), "Si Ya No Estas" (Ricky Martin), "Arrasando" (Thalia), "Da La Vuelta" (Marc Anthony), "Dame Otra Tequila" & "Mia" (Paulina Rubio), "Ay Bueno" & "Cuando El Tiempo Nos Castiga" (Jon Seceda),"In My Pocket "(Mandy Moore), "Maria Teresa" (Carlos VIves), "Nunca Me Arrepiento" & "Siento" (Alejandro Fernandez) and most recently composed "Siempre" the Spanish adaptation of the iconic classic "Somewhere" from West Side Story (Rita Moreno) and "No Hace Falta" (Il Volo).
MYRIAM HERNANDEZ (Chile)
Myriam Hernandez, a successful Chilean singer and songwriter, began her music career in the late 80's when she released her homonymous first album, where she debuted as songwriter with the title "No Pienso Enamorarme Otra Vez", and which got several gold and platinum albums and was among the Top 10 best-selling albums in Latin America. In 1989 Hernandez launched her second album, including her hit "Peligroso Amor", which was Top 1 Latin Album for 18 consecutive weeks. In 1998, her fifth album "Todo El Amor" produced by Humberto Gatica, achieved an incredible success in all major Hispanic markets, including the US, where her hit "Huele A Peligro" by Armando Manzanero quickly climbed the chart of Billboard magazine as Top 1 Hot Latin track. Hernandez's successful albums "+ y Más" (2001), "El Amor En Concierto" (2001), "Huellas" (2004), and "Enamorándome¨ (2007), have consolidated her as one of the most successful Latin artists in the industry. For all of the 12 successful albums of her solid music career, Myriam has written several of the titles and has also composed along well-known songwriters and producers such as Juan Carlos Calderon, Juan Carlos Duque, and Jaime Hernandez, among others.