Will Jeb's Latino Roots Translate for Republicans?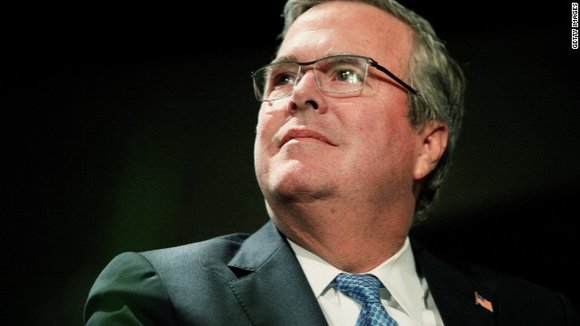 By Rafael Romo
Senior Latin American Affairs Editor
ATLANTA (CNN) -- He switched languages 27 minutes into his announcement speech. "Ayúdennos en tener una campaña que les da la bienvenida--Help us to have a campaign that welcomes you," Jeb Bush said to a crowd of supporters Monday. "Work with us for the values we share and for a great future that is ours to build for our children."
For a man who started learning Spanish as a teenager, married a Mexican woman, lived three years in Venezuela and was the governor of Florida for eight years, switching languages wasn't that difficult ... it was expected by the roughly 3,000 supporters, many of them Hispanics, who gathered at the Miami-Dade College's Kendall campus to hear him say he's running for president.
The 62-year-old Republican has been married for more than four decades to Columba, who was born and raised in Mexico. It all started when, as a teenager, he spent several months in her country of birth. At the age of 17, Jeb Bush taught English in a small village outside the Mexican city of Leon (Guanajuato state), Mexico as part of a student exchange program.
It was during the same trip that he met Columba Garnica de Gallo, the woman who would become his wife. They speak Spanish to one another and she speaks Spanish to their children at home. In 1996 he converted to her religion: Catholicism.
Speaking at the Universidad Metropolitana de Puerto Rico in late April, Bush said can relate to immigrants.
"Trust me," he said. "I know the power of the immigrant experience because I live it each and every day. I know the immigrant experience because I married a beautiful girl from Mexico. My children are bicultural and bilingual."
At a spring public event in Des Moines, Iowa; Jeb Bush, gave his listeners a glimpse into how he has embraced Hispanic culture.
The Republican presidential candidate was talking about labeling of imported produce, but his answer gave people attending the Iowa Agricultural Summit on March 7 a good idea about where he stands when it comes to food.
"When I go to Publix [supermarket] in Coral Gables, which I'll do tomorrow morning, after church, to go prepare for a Sunday fun day in my house," Bush said, "I'll probably make a really good guacamole, and I want to know where that avocado is from. I want to know where the onions are from and the cilantro."
In college, Bush earned a B.A. in Latin American Studies from the University of Texas. After college, he spent three years in Venezuela working for the Texas Commerce Bank, where he significantly improved his Spanish and gained knowledge of the culture. He's lived in Florida since 1980, a state that has the third largest population of Hispanics in the United States after California and Texas.
While serving two terms as governor in the Sunshine State, Jeb Bush never had a problem communicating with voters and Hispanic media in Spanish, a skill that helped him connect with constituencies.