Will Jeb's Latino Roots Translate for Republicans?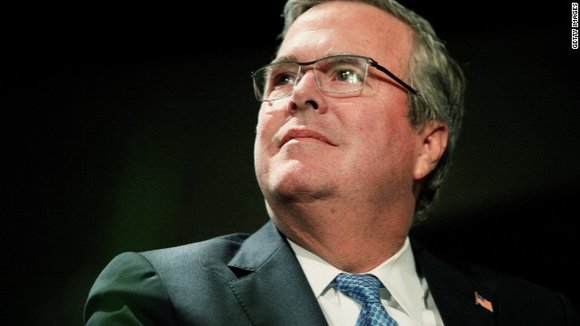 More recently, Jeb Bush recorded an ad in Spanish endorsing former Rep. Cory Gardner (R-Colorado) in his successful bid to the U.S. Senate.
More than 25 million Latinos are currently eligible to vote in the United States and their role will be crucial in the 2016 presidential election. For the 2012 presidential election, 17 percent of all Hispanic eligible voters lived in battleground states like Colorado, Florida, Iowa and Nevada, according to the Pew Research Center. While Jeb's brother George W. Bush had made inroads with Hispanic voters and cut into the Democratic advantage with them, Barack Obama drew them back toward Democrats. He won more than 70 percent of Hispanic voters in 2012. A winning Republican will likely have to bring more Hispanics back to the GOP.
Last month, Bush's Political Action Committee Right to Rise published a YouTube video on the occasion of Fifth of May, a day in which Mexicans celebrate a victory over the French army.
"Here in the U.S., Cinco de Mayo has become a day where we celebrate our ties with Mexico and the great contributions of the Mexican-American community in the U.S. In my case, this relationship is very profound. My wife Columba was born in Mexico, my family has always had strong ties with Mexico and I have great respect and affection for our neighboring country," Bush said in the video.
In fact, Bush is the only non-Hispanic in the crowded field of GOP candidates aiming for the White House with a wide support among the Hispanic electorate.
U.S. Sen. Marco Rubio, a 44 year-old Floridian, was born in Miami to Cuban immigrants. He frequently takes advantage of his fluent command of Spanish while campaigning. Ted Cruz, another junior senator, was born in Canada to an American mother and a Cuban father who raised him in Texas. He's said in the past his Spanish is "lousy" and has alienated some Latino voters for his hard stance on immigration.
Rubio has previously supported a pathway to citizenship for undocumented workers. Bush has not. But he has shown a more moderate side than most other Republican candidates on how to approach the United States immigration problems. In an interview with CNN's Jake Tapper, Bush said he favors "a strategic approach," meaning he would favor giving visas for highly-skilled foreigners.
He also called immigration a "gateway issue" and stopped short of criticizing fellow Republicans for calling for mass deportations and saying no to legislation to address the issue of what to do with the eleven million undocumented immigrants already in the United States.
"If you keep being against things, particularly something that has... we have emotional connectivity as immigration is for a lot of emerging voting groups, you're not going to even make your case," Bush told Tapper.
But Matt A. Barreto, co-founder of polling and research firm Latino Decisions, and professor of political science and Chicano studies at UCLA, says it would be a mistake for Jeb Bush to take the Latino vote for granted.