Bill Downgraded From Tropical Storm to Tropical Depression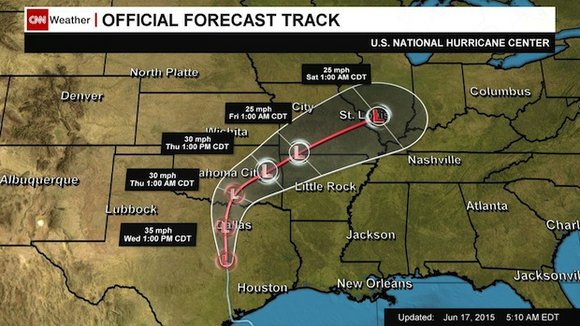 By Tina Burnside
CNN
(CNN) -- The National Hurricane Center has downgraded Bill from a tropical storm to a tropical depression. But that doesn't mean Texas is through with the rain though.
An additional six to eight inches of rain is still expected in the region Wednesday and Thursday, bringing with it the threat of flash floods.
Some areas near Houston had nearly 2 1/2 inches of rain Tuesday, the National Weather Service said.
Bill made landfall as a tropical storm at 12:45 p.m. ET Tuesday just south-southwest of Port O'Connor on Matagorda Island.
The rain is bad news for a state recovering from last month's record-setting rainfall and deadly flooding.
Torrential rains dumped 37.3 trillion gallons of water on the state during the month, enough to cover the entire state with 8 inches of water, according to the National Weather Service.
Wet ground means that even moderate rainfall could lead to street flooding, emergency management officials said.
For more information, visit cnn.com