TUTS First Date Gives Houston Audiences the Ultimate Dating Guide!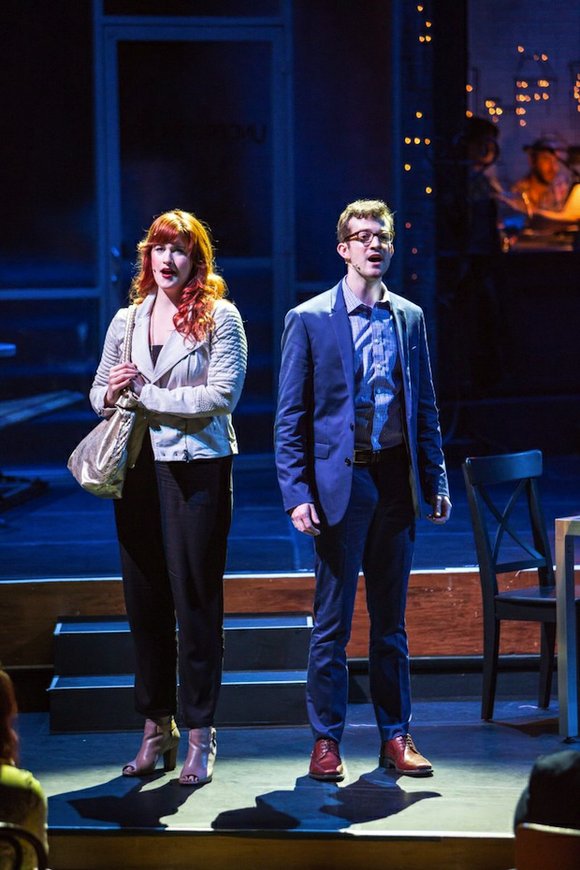 Still single and looking for love while all of your friends are married? Do you cringe because family and friends are fixated on fixing you up? Well then "First Date" is really the play for you! We all know it's complicated finding true love in today's world and this good-humored musical gives audiences some interesting insight on how hard dating truly has become.

Musical "First Date" was first performed in 2012, written by Austin Winsberg with music and lyrics by talented duo Alan Zachary and Michael Weiner. It is a hilarious play about the hardships of dating and the issues all single people face. Many of us can relate to all the nerves and jitters we feel - as we put our best foot forward, warily sitting thorough countless of bad dates in hopes of finding that one person you connect with. "First Date" is great to watch because it touches on all the confusing dating questions we have such as: what to say, what to wear, how to act, what to talk about and what not to talk about and, of course, who should really pay at the end of the night.
The musical is visually clever as the majority of the characters in the show are displayed as fictionalized voices in the main characters heads. There are imaginative and hysterical appearances from former flames, best buddies and nagging parents who bring the story to life while offering there own dating advice and colorful experiences as they coach the main characters through their very first blind date with one another. Main characters Aaron (A.J.) Shively and Casey (Jessica Janes) do a fantastic job as we watch them struggle to even like each other and then pretend to be something that they are not. The real message to audiences in this play is to be who you truly are and to take a chance at love.
The score that accompanies the play further illustrate those real first date issues we are all too familiar with, featuring songs with titles such as: "First Impressions", "(Not) the Girl for You", "Bailout Song, "The Awkward Pause" and "The Check". The style of music in the show was a great variety; so expect to see musical numbers from hip-hop to modern rock. There are also several comedic bits and dance numbers that keep the audience laughing throughout the entire night.
"First Date" manages to be both entertaining and fully engaging as it features an interactive stage design that fully immerses the audience. The audience gets to see the band play the musical accompaniment onstage as part of the bars entertainment. The set design even allows for audience members to sit on stage as part of the show and it also features a full working bar that you could order cocktails from before the show begins.
"First Date" is an attractively, fun filled, musical for both adults single and taken. It is relatable to anyone who has struggled with the confusing rules of dating.
TUTS "First Date" is currently playing at the Houston's Hobby Center through June 21st, so enjoy a night out and check it out, trust me if you have ever had to sit through a blind date - this really will be "the most fun you'll ever have on a blind date."
For more information about the show, visit www.TUTs.com.