Wimbledon 2015: How Humble Strawberry Became Slam's Most Famous Food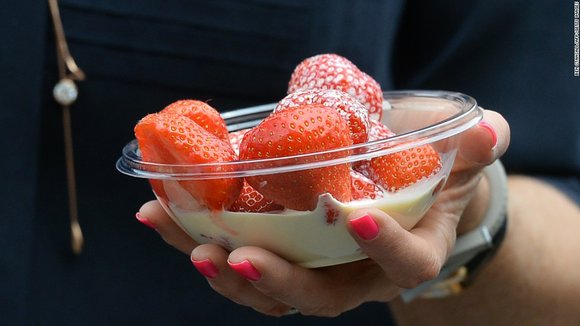 Back in the days of Fred Perry's Wimbledon success of 1936 -- until Andy Murray came along, Perry was the last Briton to win the men's singles -- Wimbledon formality would have been seen in the horticultural approach as well as the dress code.
"We are trying to use imaginative planting schemes," Perkins says. "It's not so much clipped yew hedges now as creating different planted areas so they look good for visitors all year round. They look better in the summer, of course, but we are trying to green as much as possible."
But even if they're braving a blustery day in December, visitors will often turn their thoughts to sunnier climes -- and to the Wimbledon food that most perfectly matches them.
"Often when people think about being at Wimbledon, they think about strawberries and cream and a glass of Pimm's [an alcohol-based fruit cup that has been popular at the Championships for more than half a century]," a museum spokesman says.
"People from all over the world like to know about the traditions that have endured here over the years -- and strawberries are very much one of them."
Or, as Austrian-born author Peter Bodo put it in his 1995 book Courts of Babylon: "The public never appears to tire of endless courses of strawberries and cream, and the theory that you run the risk of boring people with endless photo montages of Chelsea Pensioners in their dress reds, or close-ups of a Pimm's Cup sprouting all kinds of flora, has yet to be proven.
"People like Wimbledon in the same way they like blue jeans or even their own spouses: for the pleasure yielded by their reliable sameness."
Be that as it may, beware this warning from history if you're partial to playing tennis as well as tucking in to a bowl of strawberries.
Back in 1907, Mrs GW Hillyard, a six-time Wimbledon winner, lost a semifinal after eating strawberries as part of what she described as a "fearful tea" during a rain delay (another, of course, of the great Wimbledon traditions.)
She complained bitterly to tournament officials -- but, as irony would have it, her pleas turned out to be fruitless.
For more information, visit cnn.com