UPDATE: Charleston Church Shooting Killer Captured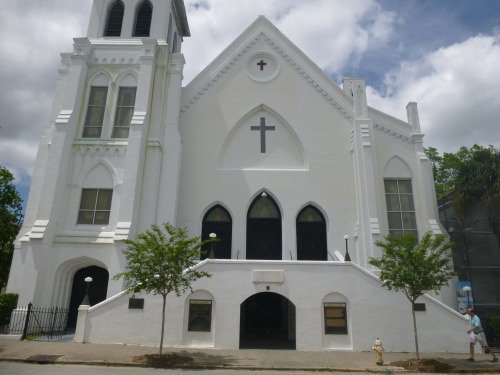 UPDATE as of 11:42a.m. CST:
Dylan Storm Roof, the 21-year-old man who police say walked into a South Carolina church and fatally shot nine people as they attended Bible study class, was arrested in Shelby, N.C., on Thursday.
to WLTX, Roof was arrested in Shelby on Thursday. Multiple sources are also reporting Roof has been arrested.
A senior law enforcement official confirmed to CNN the suspect has been taken into custody in North Carolina.
According to WCCB in Charlotte, investigators say police stopped Roof at Interstate 74 and Plato Lee Road, west of Shelby, following a tip from the public.
In the sacred house of the Lord of a Charleston, South Carolina church, man walked and performed an act of terrorism when he opened fire during a Bible study class, killing nine people Wednesday evening.
The suspect, a young white male, was still at large early Thursday morning. And the shooting at the Emanuel African Methodist Episcopal Church, is being investigated as a hate crime.
This historic congregation, the oldest AME church in the south, had already seen more than its fair share of tumult and hate. It was founded by worshipers fleeing racism and burned to the ground for its connection with a thwarted slave revolt. For years its meetings were conducted in secret to evade laws that banned all-black services. It was jolted by an earthquake in 1886. Civil rights luminaries spoke from its pulpit and led marches from its steps. For nearly two hundred years it had been the site of struggle, resistance and change.
"The only reason someone would walk into a church and shoot people that were praying is hate," said Charleston Mayor Joe Riley.
Eight churchgoers died at the scene; a ninth at a hospital, police said.
Officials wouldn't say how many people were at the prayer service during the shooting. There were survivors, said Charleston Police Chief Greg Mullen, but he didn't elaborate.
But what happens when you go through something like this? What do you do? Here's a few suggestions:
– If you suspect a potential active shooter situation, you must quickly determine the most reasonable way to protect your own life. If there is an accessible escape path, attempt to evacuate the premises.
– Always have an escape route and plan in mind even if you are just visiting. And, make sure to leave your belongings behind and keep your hands visible.
– If evacuation is not possible, you should find a place to hide where the active shooter is less likely to find you. Block entry to your hiding place and lock the doors. Use heavy items to barricade yourself if possible. And, remember to remain quiet and silence your cell phone or pager.
– As a last resort, and only when your life is in imminent danger, you should attempt to incapacitate the shooter by acting with physical aggression and throwing items at the active shooter. And, call 911 when it is safe to do so.
– If you are a manager or uniformed official, employees and customers are likely to follow your lead. So, it's essential that you remain calm and take immediate action. The key is to be aware of your environment and any possible dangers.