Obsidian Beauty Supply Takes Houston by Storm with the Opening of OBS-South Inside of H-E-B-Beechnut
Obsidian Beauty Supply and H-E-B Stores link up for the Opening of Obsidian Beauty-South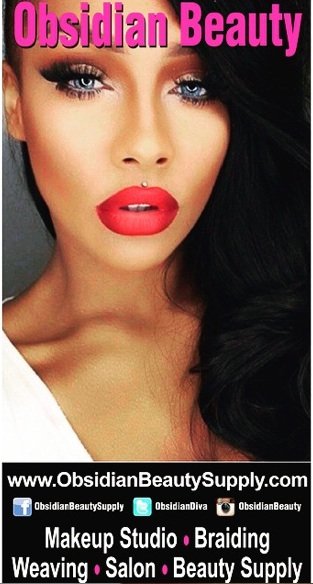 Houston, TX 2014: Obsidian Beauty Supply opens its second store location on July 1, 2015 inside of the H-E-B grocery store in south Houston. Obsidian Beauty Supply made its debut in northeast Houston in 2011 as a beauty retailer that's hip, fresh and fused with and utterly modern feel where luxury and style meet. This beauty spot is perfect for a savvy customer looking for great products, expert advice and exceptional service. Obsidian provides their own exclusive line of hair extensions, a variety of natural and organic hair care lines, unique fashion accessories and health and beauty events. The launch of the full service salon in November 2014 proved to be a success and also includes professional makeup and lash applications.
Sophia Loren, author and actress, says it best "Nothing makes a woman more beautiful than the belief that she is beautiful", the staff as obsidian definitely agrees. "Beauty is not just a physical attribute, but a virtue," says Leslie Phillips, owner and health and beauty expert. " Today's society had put a label on what beauty is, all women are beautiful regardless of dress size, skin color or hair type. Our goal is to cater to the entire woman by providing education and an honest expertise." Leslie felt women should not only be able buy quality products, but receive education on using those products, "I have used the majority of the products in our store, so I feel confident that our team can be a true assistance to the needs of our customers." On partnering with H-E-B, Leslie states, "As a female entrepreneur, I feel inspired by the history of HEB and their founder and honored to be associated with such a legacy".
H-E-B Stores, a Texas company founded by a woman in 1919, is the largest privately owned company in Texas with over 300 stores in Northern Mexico and Texas. H-E-B is also the owner of Central Market, a fine foods and organic distributer. The partnership between the two will bring the top haircare products and accessories to a 400 square foot space inside of the store.
Obsidian coordinates numerous educational events and has recently attained celebrity status when it was chosen to participate in a celebrity gifting suite for the BET Awards in 2014. Leslie has also been recognized as one of Houston's 40 under 40, a Top 50 Black Professional and Entrepreneur and finalist for the Pinnacle Business Award. She is a Houston native and alumni of Prairie View A&M University and Texas Southern University. OBS-South is located inside H-E-B – Beechnut at 10100 Beechnut Houston, TX 77072. OBS-North is located at 9344 Jones Rd. Suite E Houston TX, 77065.
For more information, visit heb.com or www.obsidianbeautysupply.com
Facebook: @obsidianbeautysupply
Instagram: @obsidianbeauty
Twitter @obsidiandiva