All Natural Autumn Skincare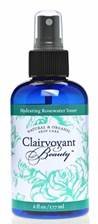 As tans fade and temperatures cool, rearrange your vanity with seasonally-appropriate beauty products that help make the transition to autumn a breeze. Rotate in fall favorites from Clairvoyant Beauty to set the focus on reviving and energizing skin while repairing damage left behind from summer sun. The Rose Glycolic Mask and Hydrating Rosewater Toner make a perfectly balanced team that transforms your face from dull and dry to a fresh, glowing surface.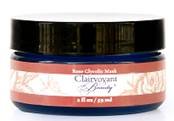 Rose Glycolic Mask ($30, 2 fl. oz.)
Brisk evenings and chilled winds signal it's time to incorporate a beneficial mask, power-packed with a rich blend of natural fruit acids that exfoliate dead skin cells for an instantly smoother feel right after the first use. Its star ingredient, Bulgarian rose oil, contains a high concentration of Vitamin B3 to help with collagen regeneration, while the hydration and anti-irritant properties help to reduce redness and soften skin. Formulated with 10% glycolic acid to refine skin's texture, this revitalizing mask helps to transform dull, lifeless skin into a vibrant, glowing complexion.
Hydrating Rosewater Toner ($18, 8 fl. oz.)
Avoid skincare-limbo between seasons with this essential astringent that conditions and cleans through a potent punch of unique components that delivers maximum results. Loyally ensuring skin is as soft and hydrated as ever, its blend of skin-firming Aloe Vera Juice and Bulgarian Roses tone the face and soften fine lines to reveal a rosy fresh and petal smooth appearance. The ultra-light formula further incorporates ingredients such as Organic Aloe Leaf Juice, Rose Distillate and Citric Acid and is perfect for all skin types, especially benefitting dry and mature skin.

Available at www.clairvoyantbeauty.com
About Clairvoyant Beauty
Inspired by her grandmother's gorgeous skin and their close relationship, Lexie Masterson founded Clairvoyant Beauty in 2010 to bring luxurious beauty products to health-minded women who demand natural ingredients but refuse to sacrifice results. The specially formulated line merges the latest in science with the purest and most powerful organic and natural ingredients to deliver effective skincare that restores the complexion to its most beautiful and balanced state. True to Lexie's eco-friendly ethos, all products are vegan and not tested on animals while the recyclable packaging is made from Forest Stewardship Council paper and produced in a wind-powered facility. For more information please visit www.clairvoyantbeauty.com.