4 Easy Treats for the 4th of July
Casual and colorful desserts made easy
Family Features | 6/24/2015, 8:10 p.m. | Updated on 6/24/2015, 8:10 p.m.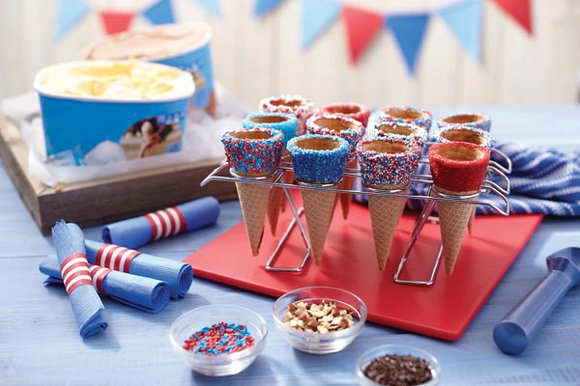 10             drops Creamy Vanilla Custard Treatology Flavor Concentrate
1/4             teaspoon salt
10             cups crisped rice cereal
1             bag (10 ounces) mini marshmallows, divided
1 1/4             cups Light Cocoa Candy Melts candy, divided
Prepare 13-by-9-inch baking pan with vegetable spray.
In very large saucepan, melt butter over medium high heat until it smells nutty and browns slightly. Reduce heat to medium low; stir in regular marshmallows, warm cinnamon graham and creamy vanilla custard flavors, and salt. Cook, stirring constantly, until melted and smooth.
Remove from heat; stir in cereal, 3 cups mini marshmallows and 3/4 cup light cocoa candy. Press into prepared pan. Sprinkle with remaining mini marshmallows and press lightly to adhere.
In small microwave-safe bowl, microwave remaining 1/2 cup candy on 50 percent power in 30-second intervals, stirring between each, until candy is almost melted. Stir thoroughly until smooth and drizzle over treats. Let cool completely.
Creamy Coconut Cookie Flag
Yield: About 3 dozen 3-inch cookies
Cookies
1             cup (2 sticks) unsalted butter, softened
1 1/2             cups granulated sugar
1             egg
1/4             teaspoon Toasted Coconut Treatology Flavor Concentrate
8             drops Creamy Vanilla Custard Treatology Flavor Concentrate
3            cups all-purpose flour
1             teaspoon baking powder
1             teaspoon salt
Icing
3/4             cup + 3 teaspoons water
12             cups (about 3 pounds) confectioner's sugar, sifted
6             tablespoons Color Flow Mix
Color Right Performance Color System (see colors tinted below)
Icing Colors
Red (formula 32): 1 1/2 cups icing + 62 R + 8 O
Deep Blue (formula 647): 1/2 cup icing + 27 B + 5 P + 6 R
White: Reserve 2 cups icing
Note: Make and decorate cookies 1 day in advance to allow for drying time.
Heat oven to 350°F.
In large bowl, beat butter and sugar with electric mixer until light and fluffy. Beat in egg and flavors. Mix flour, baking powder and salt; add to butter mixture 1 cup at a time, mixing after each addition. Do not chill dough. Divide dough into 2 balls.
On floured surface with rolling pin, roll each ball into a circle approximately 12 inches in diameter by 1/8 inch thick. Cut cookies with star nesting metal cookie cutter. Dip cutter in flour before each use.
Bake cookies on ungreased cookie sheet 8–11 minutes or until cookies are lightly browned.
Prepare Color Flow icing. Tint icing following color formulas above. Use tip 3, a parchment bag and full-strength icing to outline cookies: 32 in red, 21 in white and 16 in blue. Let cookies dry 1–2 hours.
Thin 1 cup red, 1/4 cup blue and 1 cup white icing. Use thinned icing and disposable decorating bag to fill in cookies. Fill in 8 of blue outlined cookies with white icing and remaining cookies with matching outline color. Let dry 8–12 hours.
To serve, arrange cookies on tray in stars and stripes design.
For more information, visit www.wilton.com.