ATLAS Announces Construction of Stella Hotel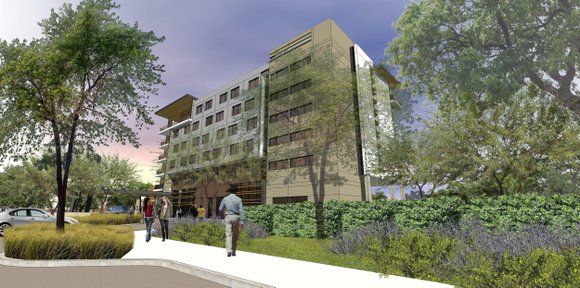 (BRYAN, Texas) – ATLAS – the master-planned community for health and wellness companies – announces construction of the highly-anticipated Stella Hotel and complementary mixed-use buildings will kick-off this fall.
Situated at the epicenter of the Brazos Valley's emerging Texas A&M Biocorridor, The Stella Hotel is the centerpiece of the 200-acre, mixed-use ATLAS community. This pedestrian-friendly, wellness-focused enclave will offer professionals and families respite from the hustle-and-bustle of student-focused retail, restaurant and housing dominating the region.
Designed by Dallas-based FAB Studios, "The Stella" features a stylish, modern veneer and interior, including: 177 rooms and suites, fitness center, 10,000 square feet of ballroom and conference space, resort-style pool area with bar, outdoor event lawn and restaurant/bar with alfresco dining.
Supporting The Stella and adding more synergy to ATLAS, Nelsen Partners (Kierland Commons, The Long Center) is designing three office/retail areas totaling more than 80,000 square feet. Highlights include retail space, a waterfront restaurant, lakeside pavilion and observation tower.
"We are excited about the construction timelines and significant progress on The Stella and mixed-use buildings," says Spencer Clements, Principal, ATLAS and Traditions Development. "Our goal is to make the Brazos Valley a highly-attractive place to live and work for those in the health and wellness field."
The Maturewell Lifestyle Center, a senior health and wellness complex owned and operated by St. Joseph Health System in conjunction with the Texas A&M Health Science Center, is also underway in ATLAS. The two-story, 23,000 square-foot facility offers a single destination for both healthy seniors those in need of care.
More information is available at the new ATLAS website: www.atlastx.com.
About ATLAS
An extension of the acclaimed Traditions Club and Community, ATLAS is the first and only master-planned community in Texas created for companies engaged in the health and wellness fields. ATLAS offers a thriving planned community with an amenity-rich mix of lifestyle, employment and outdoor opportunities, including The Stella Hotel.
Centrally located within The Texas A&M Biocorridor, ATLAS is adjacent to the Texas A&M Health Science Center and two just miles from Texas A&M University and Easterwood Airport. The College of Veterinary Medicine, new $32 million Equine Complex, Mays Business School, Texas A&M Research Park, National Center for Therapeutics Manufacturing and the Texas Institute of Preclinical Studies are all within 2.5 miles.
ATLAS is adjacent to the Traditions Club and Community, providing access to its Jack Nicklaus/Jack Nicklaus II designed championship golf course, fine dining and luxurious home sites. This, combined with unparalleled entrée and proximity to world-class researchers and students locating within ATLAS, provides an ideal collaborative atmosphere for companies.
More information is available at the new ATLAS website: www.atlastx.com.