Full Figured Fashion Week Rocks NYC In 'Plus-Sized' Success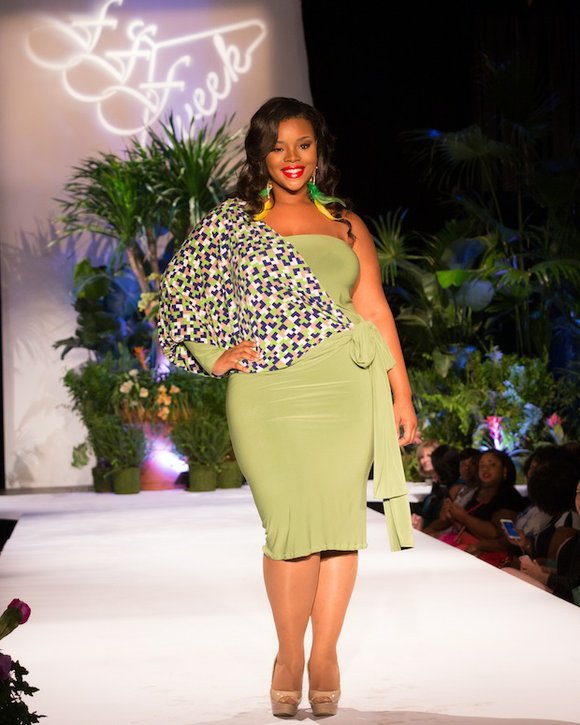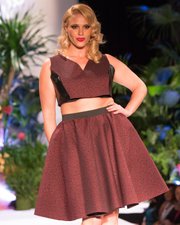 New York, New York- The 7th Annual Full Figured Fashion Week (FFFWeek®), a summertime celebration of "beauty, fashion, empowerment, and plus-size business networking," according to producer Gwen DeVoe, was a resounding success as hundreds of industry executives, retailers, fashionistas, and media flocked to New York City's famous Financial District and Midtown Manhattan's Garment District for the 7-day extravaganza, which ran from June 14th through June 20th. "Our fashion showcases on Friday and Saturday evening were sold out events," says DeVoe, CEO of DeVoe Signature Events (DSE), "and the 25 brands that presented collections on the runway were extremely well received." The June 19th and 20th events were a stunning culmination of a whirlwind week that included an authentic Hawaiian luau, hosted by the 2015 Face of FFFWeek®, Revee Lamar. and the exciting Curves at Sea White Cruise, featuring an Ashley Stewart runway show, musical performances by Queen of Gospel Energy Dawn Tallman, Impact Magazine's "Cocktails and Conversations with Gwen DeVoe", and the fabulous Celebrate My Size Expo, presented by FFFWeek® and PLUS Model Magazine.

Everyone stood up and took notice as the Indie Designer Showcase took center stage on Friday, June 19th. This exclusive catwalk event featured a dazzling array of designers, including Ask Fashion, Boots By Pamela (BBP), Curves Makes a Woman, Eyani Couture, Hannah Caroline Couture, I'Me, Just Curves, Misty Belvidere, Serita Bell, Soulevant Lingerie, Sue Rock Originals, Tia Lyn Lingerie and Tru Diva Designs. These gifted clothiers displayed their artistry before a truly enthralled audience, and the grace and flair of the models rivaled those of other major fashion shows around the world. This tribute to the independent, plus-size designer was a fitting prelude to the following day's Retailers/Boutique Finale. FFFWeek's® Presenting Sponsor, Fit for Me by Fruit of the Loom, and FFFWeek® Gold Sponsor Ashley Stewart led the way for Curve Culture Boutique, Christopher & Banks, Fashionable Addictions, MarlaWynne,Hal Rubenstein, Qurvii, Sydney's Closet, The E.G.O. Boutique, The Thiq Boutique, and Your Big Sister's Closet, to enlighten the fashion world about the electrifying beauty of naturally curvy women, whose allure was amplified by the ensembles they wore. Plus-size supermodels Brittany Cordts, Ebonie "Miss Pinky" Bennett, Christina Mendez, Jonquil Newland, Liris Crosse, Nedra Phillips, Ronnie Howard and Michelle Rudan lived up to their reputations for being runway blazers at both showcases.
Other signature events at FFFWeek® included a panel discussion entitled "The Small Business Leader's Guide to Business Structure (licensing, trademarks, branding, social media)", with distinguished panelists Lynn Cooper -Founder/CEO "Socially Ahead", Tyson Moultrie -CCO of Why Blue Matters® Hybrid Creative Agency + Publications, Media trainer on Nellyville Season 2, Wild'n'Out Season 7, Mallorie Carrington -NYC based Fashion Designer/Owner of SmartGlamour, and Mani Mahjouri- Expert in trading strategies and managing global hedge funds, who was honored with the First Step to Nobel Prize in Physics. The moderator was MNS Media Celebrity Publicist Ernest Jackson. Another popular FFFWeek® panel was "Turning Passion into Profit" hosted by Gwen DeVoe. Full Figured Fashion Week Industry Awards were given to Sydneys Closet (Retailer Of The Year), Jordan Tesfay (Model Of The Year), Tru Diva Designs by Veronica L. (Designer Of The Year), Your Big Sister's Closet (Boutique Of The Year), Kelly Augustine (Blogger Of The Year), and the Curvy Spirit Award went to Tess Munster.

FFFWeek® enjoys a far-reaching reputation as the "Oscars of the Plus-Size Industry", and many recognizable labels, retailers, magazines, and other well-known companies were eager to sponsor the affair. From Presenting Sponsor and underwear giant Fruit of The Loom, major retailer and Gold Sponsor Ashley Stewart, along with PLUS Model Mag, the premiere virtual magazine for plus size fashion and this year's official Media Sponsor, to Cameo de Bore' Clutches, DeVoe Magazine, Xpandasox, Always for Me, ModCloth, The Runway+, Lavender's Jungle, IMPACT Magazine, Smash Shoes, YONA, La Glam Boutique, FullBeauty.com and Premis Cognac. These brands gave FFFWeek® their strong support and brought the week's events to vibrant, enchanting life. "We look forward to bringing FFFWeek® fans even more offerings at next year's event," DeVoe reflects, looking to the future, "which will be held in NYC on June 12-18, 2016".

You can visit www.fffweek.com for more about this diverse and unique fashion event.