Red, White & Rosé – 4th of July Essentials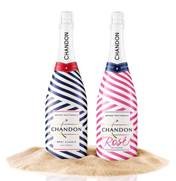 For three years, Chandon has brought playful and patriotic pops of red, white and blue to summer entertaining with its signature American Summer Limited Edition bottles. The question for 2015 was how to make this highly anticipated summer offering more colorful and exciting. The answer: think pink.
Wrapped in a new nautically-chic design, the 2015 Chandon American Summer Limited Edition Brut will be joined by a Rosé version featuring the same crisp, classic stripes in a vibrant pink. Available Memorial Day through Labor Day the 750ml bottles will retail for $22-$24 at Chandon.com and select retailers, and the Brut will also be available in the mini 187ml for $8.
Additionally, Chandon is partnering with the Blippar app this year. Consumers can use their mobile device to scan the bottle and unlock an interactive augmented reality world of American Summer including a "Summer Selfie" experience.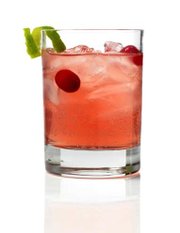 Cape Cod Fizz
1/2 oz simple syrup
1 oz fresh lime juice
2 oz cranberry juice
2-3 oz Chandon Rosé
Frozen cranberries
Lime twist
Combine the simple syrup, lime juice and cranberry juice in a rocks glass. Stir. Add ice and frozen cranberries. Top with Rosé. Garnish with lime twist.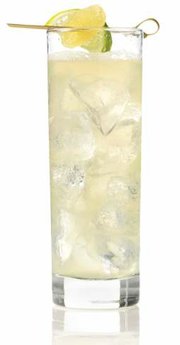 Sparkling Shandy
A play on the traditional Shandy, this summer refresher is a delicious mix of zingy ginger and zesty lemon.
2 oz. lemonade
1 tsp ginger beer tonic
2 oz. Chandon Brut Classic
Candied ginger and a lime wheel
Pour the lemonade into a rocks glass. Add the ginger beer tonic and stir. Add the Brut and ice. Arrange candied ginger and a lime wheel on a toothpick and place over the rim of the glass. Serve.
Summer Sweet & Savory
3 oz. strawberry lemonade
3 dashes Strawberry Rhubarb bitters
2-3 oz. Chandon Rosé
Sprig of fresh summer savory
2 large strawberries, quartered
Pour the strawberry lemonade into shaker. Add the bitters and ice. Shake. Strain into a coupe or other decorative glass. Add the summer savory and strawberries. Top with Rosé and serve.
About Chandon
Founded in 1973 by Moët & Chandon, Chandon was the first American sparkling wine venture established by a French Champagne house in Napa Valley. With over 1,200 acres of prime vineyard holdings, Chandon grows the traditional French Champagne grapes (Chardonnay, Pinot Noir and Pinot Meunier) in three of California's finest appellations: Yountville, Carneros and Mount Veeder. Pioneers in California's sparkling, Chandon celebrated its 40th Anniversary in 2013. For more information please visit Chandon.com, like us on Facebook and follow us @ChandonUSA on Instagram and Twitter, #ChandonSummer.