Reminder: Fire Station 5 Officially Opens Tomorrow, July 1; Grand Opening Ceremony Being Planned for Aug. 15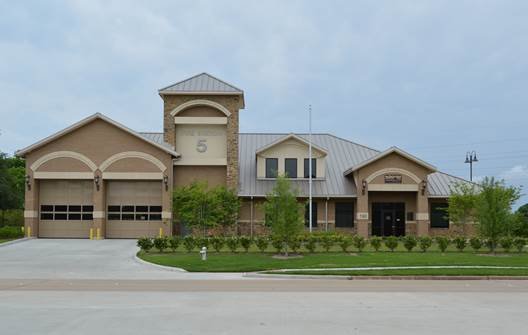 On tomorrow, Wednesday, July 1, 2015, Missouri City Fire Station 5, located at 190 Waters Lake Blvd., will officially open its doors and begin serving the southern portion of Sienna Plantation. Officers and drivers for the new station were sworn in on Thursday, June 25, at a special ceremony at the City Centre at Quail Valley, 2880 La Quinta Dr. A grand opening ceremony for the public is being planned for Saturday, Aug. 15; please watch the City's website: www.missouricitytx.gov for details.
"The opening of Fire Station 5 has been greatly anticipated by City Council, staff and Sienna residents who will be served by the new station. The hiring of new Fire and Rescue Services staff to man the station and drive fire and rescue vehicles will also alleviate the City's other fire stations, benefiting residents across all districts," Missouri City Mayor Allen Owen said. "The new fire station will now open thanks to the agreement the City made with Sienna Plantation Municipal Utility District No. 1 for its funding and future operations."
The new station is 7,848-square-feet and was designed to add a third bay in the future. The third bay can be used to house an ambulance or other resources depending on the resource needs of the area as the community reaches full build out.
"While the interior of the station provides the same functions as Fire Station 4, the layout is different to facilitate additional firefighters in the future, improve functionality of the facility and to provide a more open living area," Fire and Rescue Services Chief Russell Sander said. "The exterior design is similar to the Sienna theme of the commercial development along Highway 6. The addition of the station will decrease response times in Sienna South by half, bringing it within national standards of five minutes and 20 seconds for the majority of the area."
For more information about Missouri City, please visit the City website: www.missouricitytx.gov, like us on Facebook—fb/MissouriCityTX, watch Missouri City Television (Ch. 16 on Comcast and Ch. 99 on AT&T U-verse) and follow us on Twitter and Instagram—@MissouriCityTX.