H-E-B Kicks Off Statewide 110th Anniversary Celebration on Texas Independence Day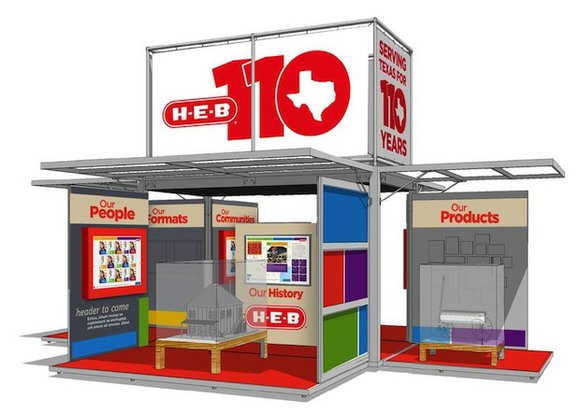 (KERRVILLE, TX) – On Texas Independence Day (March 2), H-E-B kicked off a 5-month long celebration across the Lone Star State in honor of the company's 110th anniversary of serving Texans. The kickoff celebration was held from 12-7 p.m. at the H-E-B located at 300 Main St. in Kerrville, just blocks away from where Florence Butt opened the original C.C. Butt Grocery Store with just $60 in November of 1905. Kerrville Mayor Jack Pratt was on hand to present a proclamation recognizing H-E-B for 110 years of serving Texans.
Celebrations will follow in 14 cities in the order in which H-E-B originally entered each market. Each celebration will feature a press conference and the presentation of a proclamation by an elected city official recognizing H-E-B for 110 years of service.
The tour cities and dates are as follows: Del Rio (March 5), Brownsville (March 12), Laredo (March 19), McAllen (March 26), Corpus Christi (April 9), Victoria (April 13), Austin (April 23), San Antonio (May 13), Waco (May 28), Beaumont (June 4), College Station (June 11), Houston (June 25), Midland (July 9) and Dallas (July 16).
"Since our humble beginnings, H-E-B has remained dedicated to making the lives of Texans better by providing an exceptional shopping experience and quality products and services at affordable prices," said Craig Boyan, President of H-E-B. "It is because of the longstanding relationships we share with our amazing Partners (employees) and our loyal customers that we are able to celebrate 110 years in business, and we hope to celebrate many more to come."
A select H-E-B location in each city along the tour will host an H-E-B Partner (employee) event and a Customer event that will feature complimentary food and refreshments, music, Primo Pick samples and the first-ever H-E-B Mobile Museum.
The H-E-B Mobile Museum will showcase a digital archive of historical H-E-B mementos and a timeline of the company's rich history. In addition, H-E-B is asking customers to contribute to that history by bringing any H-E-B mementos to the Customer Appreciation Day in their city for inclusion in the mobile museum. H-E-B representatives will take a photo of the item and include a brief description for archiving purposes.
"From old name badges and newspaper clippings to photos and handwritten notes, we want the unique stories from our Customers and their families' to be included as a piece of H-E-B history," said Kate Rogers, H-E-B's vice president for communication and engagement.
About The First Store: Kerrville, 1905
On November 26th, 1905, Florence Butt opened the C.C. Butt Grocery Store with her savings of $60 to support her ailing husband and three children. For $9 a month, she leased the 450-square-foot store on the ground floor of a small frame building on Main Street in Kerrville, Texas. Sales were $50.60 in the first month, a tiny beginning for what would become a Texas legend.
While Florence ran the store, she also put down roots in her new community. She eventually came to rely on her youngest son, Howard, to help out at the store after school and make grocery deliveries to Customers using a hand-drawn red wagon. When Howard took over leadership of the family business, he moved to a cash and carry operation and expanded across the state of Texas.
In 1971, Howard handed the reins of leadership to his youngest son, Charles C. Butt. Under Charles' direction, H-E-B has grown into one of the largest privately held retailers in the country with over 360 stores, multiple manufacturing plants, warehouses and transportation depots. Today, H-E-B employs over 85,000 Partners who continue the tradition of "making the lives of Texans better."
About H-E-B
H-E-B, with sales of more than $22 billion, operates more than 360 stores in Texas and Mexico. Known for its innovation and community service, H-E-B is celebrating its 110th anniversary in 2015. Recognized for its fresh food, quality products, convenient services, and a commitment to environmental responsibility and sustainability, H-E-B strives to provide the best customer experience at everyday low prices. Based in San Antonio, H-E-B employs more than 85,000 Partners and serves millions of customers in more than 150 communities. For more information, visit www.heb.com.