Former NY Knicks Player Anthony Mason Dies at 48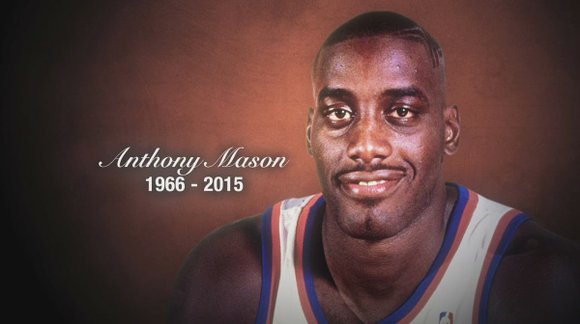 Anthony Mason, the 13-year NBA veteran who was diagnosed with congestive heart failure earlier this month, died on Saturday. He was 48. The man known as Mase was a self-made NBA All-Star best remembered as a beloved and belligerent part of the Knicks squad that lost in the 1994 NBA Finals. He was rescued from obscurity in 1991 by Riley, who grew enamored of the contradictory aspects in Mason's game. The lefty-shooting Mason's lifetime stats — 10.9 points and 8.3 rebounds per game — hardly reflected his impact on the game.
Fans came to love Mason's quirky side, including his penchant for using his head as a billboard — often advertising himself with "MASE" carved into his hair. At various other times, he sported a Knicks logo and a religious message: "In God's Hands."
The 6-foot-7 Mason, who packed on 100 pounds over his 250-pound playing weight following his 2003 retirement, remained a frequent figure at Knicks practices and games.
Mason is survived by his two sons, who both played college basketball, and his 90-year-old mother Mary — who handled most of the parenting in their home.
"First, I want to thank all those who offered prayers and well-wishes for my Father, our family really appreciates it," his son, Anthony Mason Jr., said Saturday. "Overnight, New York City and the world lost a legend, a friend, a brother … but more than anything our father, Anthony Mason. As you all would expect our father — Big Mase — put up an incredible fight, dealing with a severe heart issue. I'm wishing this was something else I was writing, but Pops we've got to let you know we love you and know you'll always be with us."
For more information go to http://www.facebook.com/yourgossipfix