Houston College Classic Returns to Minute Maid Park This Weekend
Coaches luncheon, batting practice planned for Thursday; Credentials still available for weekend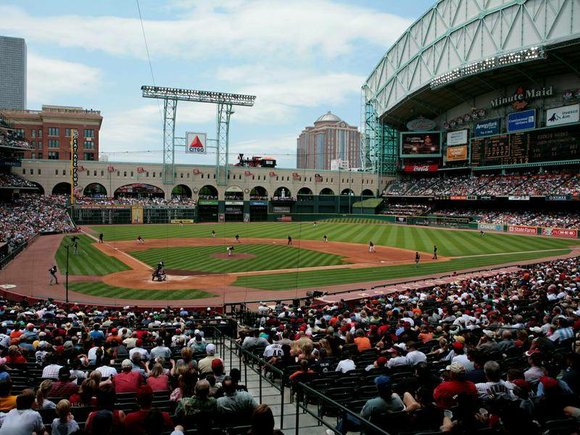 HOUSTON, TX — The 15th annual Houston College Classic returns to Minute Maid Park, home of the Houston Astros, this weekend (March 6-8) with regional matchups highlighting the three-day, six-team, nine-game tournament. The University of Houston will be making its yearly appearance in the Classic and will be joined by Baylor, Texas A&M and LSU, which is making its first appearance in the tournament. Nebraska, which is coached by former Astro Darin Erstad, and Hawaii, round out the tournament field.
The Houston College Classic once again boasts a strong lineup led by No. 2 LSU (10-1), No. 8 Houston (8-4) and No. 22 Texas A&M (12-0), as ranked by Baseball America in their weekly poll. This event is regarded as one of the top collegiate baseball tournaments in the nation, as it continues to draw fans, top-ranked programs and scouts from every Major League organization on a yearly basis.
Last year's Classic, which featured three teams ranked in the preseason top 25, eventually had all six participants make an NCAA Regional. Historically, the Houston College Classic has hosted the No. 1 team in preseason polls six times in tournament history and has hosted two eventual College World Series Champions. Several current Major League players have played in the Classic, including David Price, Michael Bourn, Gerrit Cole, Mike Leake and Anthony Rendon, to name a few.
For local fans or alumni, this year's tournament represents the only time that Hawaii, LSU and Nebraska will play in the state of Texas this season, while the Houston College Classic will be the only stop in Houston for Baylor and Texas A&M in 2015.
2015 HOUSTON COLLEGE CLASSIC SCHEDULE*
Fri., March 6 Baylor vs. Hawaii 12:05 p.m.
Nebraska vs. Texas A&M (#22) 3:35 p.m.
Houston (#8) vs. LSU (#2) 7:05 p.m.
Sat., March 7 Hawaii vs. Nebraska 12:05 p.m.
LSU (#2) vs. Baylor 3:35 p.m.
Texas A&M (#22) vs. Houston (#8) 7:05 p.m.
Sun., March 8 Nebraska vs. LSU (#2) 11:05 a.m.
Baylor vs. Texas A&M(#22) 2:35 p.m.
Hawaii vs. Houston (#8) 6:05 p.m.
For more information, visit www.astros.com