What's in the Iran nuclear deal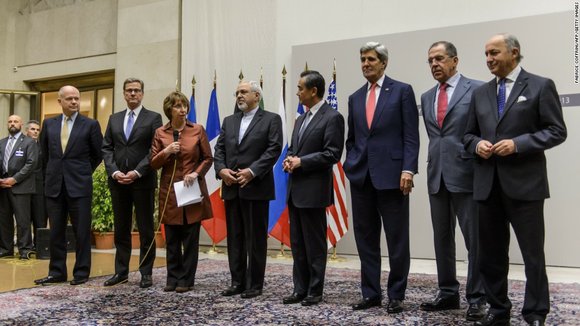 MONTREAUX, Switzerland (CNN) -- With a crucial deadline in the negotiations over Iran's disputed nuclear program less than a month away, negotiators are hard at work in this picturesque town trying to hammer out a framework agreement for a deal.
It's a complicated process many years in the making that, as with many international negotiations, brings with it varying expectations from each side.
Secretary of State John Kerry traveled to Switzerland for the second time in recent weeks for a series of meetings with Iranian Foreign Minister Javad Zarif as the clock ticks down.
While Kerry and other U.S. officials have long maintained that no deal is preferable to one that can be easily broken, Kerry laid out a broad vision of what an acceptable deal to him would look like.
"Any deal that we would possibly agree to would make the international community, and especially Israel, safer than it is today. That's our standard," Kerry said Monday as his meetings with Zarif began.
What does the U.S. want?
For its part, the United States is looking for the elimination of any ability on the part of Iran to make a nuclear weapon in the future.
At the very least, the United States and its partners in these negotiations, the five permanent members of the United Nations Security Council and Germany, the so-called P5+1, want to extend the time needed for Iran to assemble a weapon, the so-called breakout time, to be extended to a year in order to provide enough of a gap to react to such a decision.
In an interview with Reuters on Monday, President Barack Obama said Iran should commit to a verifiable freeze of at least 10 years in its nuclear activity as part of any final agreement.
"If, in fact, Iran is willing to agree to double-digit years of keeping their program where it is right now and, in fact, rolling back elements of it that currently exist ... if we've got that, and we've got a way of verifying that, there's no other steps we can take that would give us such assurance that they don't have a nuclear weapon," Obama said.
What does Iran want?
Iran would like complete relief from the international sanctions that are crippling its economy, particularly in the wake of falling global oil prices. For Iran, anything less is a non-starter.
"Our negotiating partners, particularly the western countries and particularly the United States, must once and for all, come to the political understanding that sanctions and agreement don't go together," Zarif said Monday. "If they want an agreement, sanctions must go."
Getting the balance right on any potential deal, particularly the sanctions question, will be tricky as the United States and its allies are pushing for an incremental lifting of sanctions in order to maintain leverage to ensure Iran is abiding by the agreement.
How do the sides get to a deal?
While both sides say the gaps between the two sides are narrowing, the big remaining question is how you get to a deal that all sides can agree on.
"There are gaps. There's certainly gaps and we're starting to move forward but it's a lot of work," Zarif told CNN on Tuesday. When asked how many times the sides plan to meet Tuesday, he replied, "As many times as necessary."
They are keeping that promise -- having met late into the night Monday and starting early again in the morning -- in talks that have developed a steady rhythm: meet for an hour, head back to confer with staff, then meet again. This round of talks will continue into Wednesday.
Sticking points
In order to increase that breakout time, the P5+1 negotiators say there needs to be a drastic reduction in the number of Iranian centrifuges, the devices used to enrich uranium to the higher level of purity needed for a nuclear bomb.
Iran currently has approximately 20,000 centrifuges, but it has many times balked at reducing that number to the few thousand centrifuges that international negotiators are pushing for in any agreement.
There is also the question of what you do with the growing stockpile of enriched uranium currently inside Iran.
While the United Nation's International Atomic Energy Agency has not seen evidence that Iran has enriched its uranium stockpile to levels approaching 20% in recent months (nuclear weapons typically require enrichment to 90%), Iran views questions over its nuclear abilities as an affront to its sovereignty.
In the past, negotiators have raised the prospect of shipping Iran's uranium supply to a third country -- Russia is often mentioned as a candidate -- in order to convert that fuel down to very low levels that would only be suitable for civilian power plants.
And there is also the sticking point of increasing the level of monitoring at Iran's nuclear facilities so Iran doesn't not have the capability to cheat on any deal reached.
The IAEA currently has the ability to monitor a variety of nuclear sites, but the government has refused access to a sensitive site that many feel has been used in the past to test various explosive devices that could be part of a potential military dimension to Iran's nuclear program.
"We have asked questions and the questions are clear, so (Iran) can answer," IAEA chief Yukiya Amano said Monday.
Looming deadlines
Added to all this complexity are the two separate deadlines the entire enterprise is up against.
Negotiators are working toward a deadline at the end of March to reach a political framework that would spell out the elements that both sides agree would form the basis of a deal. That would then pave the way for a complete and final agreement with all the technical details addressed to be reached by the end of June.
There is of course the possibility of reaching a framework agreement only to have it fall apart as the two sides work to finalize the details for the complete deal.
Despite the repeated rhetoric from both sides that the gaps between the two have been diminishing for a number of weeks, the bridging of those final gaps are likely to prove to be the most difficult ones as the negotiating window closes.
For more information go to http://www.cnn.com