World-Renowned Clarinetist Performs with Andre's Orozco-Estrada in Copland and Dvorak
Swedish Clarinetist Martin Fröst makes his Houston Symphony debut Also on the program: Andrés' masterful interpretation of Dvořák: Symphony No. 7 "Musically Speaking with Andrés" on Thursday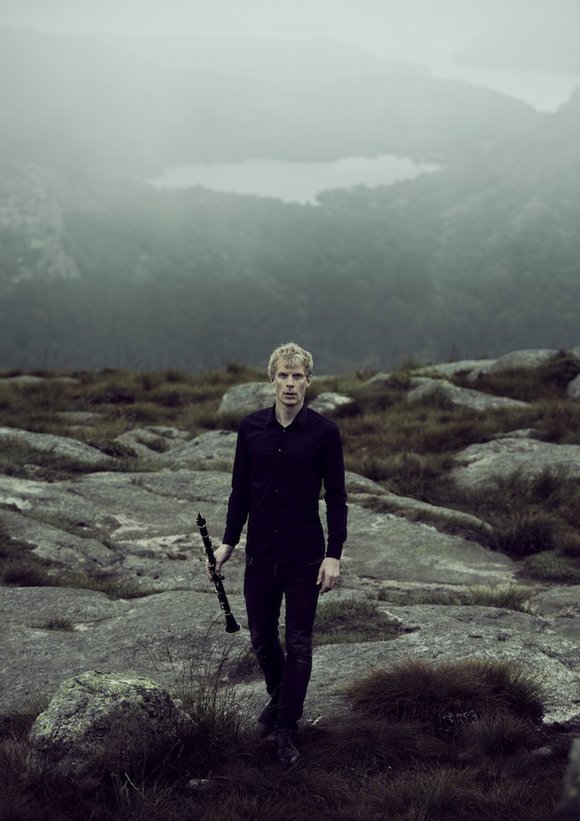 HOUSTON (March 3, 2015) – Multifaceted artist and Swedish clarinetist Martin Fröst will make his Houston Symphony debut at Jones Hall on March 14-15 under the baton of Music Director Andrés Orozco-Estrada.
Fröst is known for creating new artistic expressions within the traditional framework of classical music while creating a new bold experience for concert goers. In Dollhouse, he appears as soloist, conductor, dancer, actor and master of ceremonies in a sophisticated production supported by special lighting and effects.
In Copland and Dvořák, he can be seen delivering exceptional performances of Copland's lyrical Clarinet Concerto and Klezmer Dances for Clarinet and Strings, a challenging composition written by his brother Göran, a violist and active composer and arranger. Fröst's exceptional abilities are described by The New York Times as "a virtuosity and a musicianship unsurpassed by any clarinetist — perhaps any instrumentalist."
Later in the program, Music Director Andrés Orozco-Estrada's masterfully interprets Dvořák's Symphony No. 7, a work that explores a range of emotions from grandeur and tragedy to pastoral reflection. Dvořák's Symphony No. 7 is part of a four-symphony Dvořák cycle that Andrés is leading with the Houston Symphony. The last four great symphonies of Antonin Dvořák will be recorded with Dutch recording label PENTATONE. The first recording featuring the Seventh and Eight Symphonies is scheduled to be released in the fall of 2015.
"Musically Speaking with Andrés" at Rice University's Stude Concert Hall
Prior to the weekend performances featuring Fröst, Andrés and the Houston Symphony take the stage at Rice University's Stude Concert Hall at the Shepherd School of Music on Thursday, March 12, for "Musically Speaking with Andrés." Andrés will be joined by friend and fellow conductor Carlos Andrés Botero in this program that integrates musical commentaries, examples, and a Q&A session with a performance of Dvořák's Symphony No. 7. Andrés' goal with this series is to deepen connections between the audience, the music and the makers of music, providing insightful context that adds to the richness of the listening experience. Note that this Thursday evening concert will not include Martin Fröst.
"You don't have to be an expert or already know all about the composers. Just give yourself the opportunity to open your eyes and ears, and see this beautiful universe that is an orchestra," Andrés says. With this new concert format, Andrés hopes to further open the eyes and ears of new and veteran Symphony goers in order to connect more of Houston's diverse population to the power of live symphonic music in a direct way.
The final "Musically Speaking with Andrés" concert (featuring English commentary) will take place on May 7, 2015. It will highlight Bartók's Concerto for Orchestra.
Full Concert Details:
Musically Speaking with Andrés - Dvořák's Symphony No. 7
Thursday, March 12, 2015, 7:30pm
Andrés Orozco-Estrada, conductor
Carlos Andrés Botero, co-host
Tickets from $25

Martin Fröst will not be on the Thursday program.
Rice University
Stude Concert Hall
In the Shepherd School of Music (at the Alice Pratt Brown Hall)
6100 Main St