Employed but Looking: Eight Tips for Keeping Your Job Search Confidential
Now that the job market is improving, more and more workers are hoping to make a career change. Here, Peter K. Studner shares advice about how to conduct a job search campaign while keeping your effor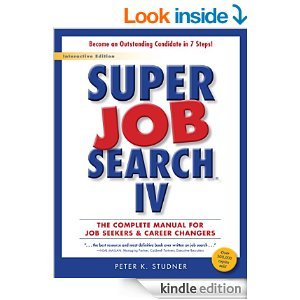 Los Angeles, CA (March 2015)—During the darkest days of the Great Recession, any American fortunate enough to be reliably employed clung to his or her job for dear life, no matter if it was unfulfilling or extremely stressful or a dead end. A paycheck, after all, was a paycheck. But now that the job market is improving, discontented and underemployed workers are beginning to seek out new opportunities.
If you're one of them, Peter K. Studner advises you to take a moment to formulate a strategy before sending out piles of résumés.
"Finding a job that's a better fit for you is a great goal, but in many cases, it's wise to keep your job search confidential from your current employer," says Studner, author of Super Job Search IV: The Complete Manual for Job Seekers & Career Changers (Jamenair Ltd., 2015, ISBN: 978-0-938667-06-3, $26.95, www.SuperJobSearch.com). "A successful job search campaign might take several months—or even longer—to conduct, but some employers might show you the door tomorrow if they learn you're planning to move on. Take steps to ensure that you leave on your terms and your timeline."
In Super Job Search IV, Studner, whose outplacement firm has helped over 27,000 people transition from one job to the next, guides readers through the complicated process of conducting a successful job search campaign. Best of all, Super Job Search IV isn't "just" a book—it's a systematic approach to finding a job that includes online resources and an app.
Here, Studner shares some advice to help you keep your job search confidential:
Don't be a blabbermouth. Sure, you might be excited about your plans for the future, but think twice (and maybe three times) about who you share them with. (You never know which friend might know someone else who plays golf with your boss!) "Do not mention your search to anyone other than interested parties," advises Studner. "Be sure to explicitly ask them to keep your campaign confidential."
Be mindful of who has a copy of your résumé. Keep in mind that anyone who has your name can find who your present employer is online, so be discreet in circulating your résumé—even if you've purposefully been vague in describing your current position.
Don't conduct your job search on company time. Do not use company computers to send out personal correspondence or to do online job searches. "Some employers may have methods to check your computer usage and browser history," points out Studner. "But beyond that, it's best to conduct your job search with integrity. Don't 'steal' time and resources from your current employer. Use your personal laptop or mobile device on your own time."
Don't make it "Facebook official." Do not discuss your campaign on any social or professional media—even if your privacy settings are strict. However, use LinkedIn to identify people in companies you wish to approach.
Meet with your references ahead of time. Discuss your search plans only with references you can trust. "Actually, I recommend talking or meeting with your references before launching your job search campaign," Studner says. "Talk about your goals and your desire to keep your search quiet. Make sure your references are prepared to support claims you've made about your achievements, skills, and experience without sharing information you'd rather keep confidential."