Employed but Looking: Eight Tips for Keeping Your Job Search Confidential
Now that the job market is improving, more and more workers are hoping to make a career change. Here, Peter K. Studner shares advice about how to conduct a job search campaign while keeping your effor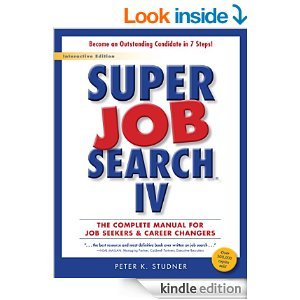 Be wary of blind ads. In general, Studner warns job seekers to be wary of blind advertisements, which don't identify the advertiser and often use ambiguous language. Sometimes blind ads do advertise an actual job; other times, however, they represent a recruiter searching for assignments, candidates, or both. "If you're currently employed, you risk exposure by applying to blind ads because you don't know who is on the other end," Studner says. "If the ad seems too good to pass up, ask a trusted friend to apply on your behalf without revealing your identity. Super Job Search IV includes a model letter."
Work with recruiters who will respect your confidentiality. Keep in mind that most recruiters are hired by companies to fill open positions. They work primarily for their clients, not for you, the candidate. The point is, don't blindly trust recruiters. Ask for assurances that your name and information will be kept confidential unless you give permission otherwise.
"As long as your job search is confidential, omit the name of your current employer on the résumé you provide recruiters—merely list the industry," advises Studner. "If you have skills that you know recruiters are looking for and wish to be a little daring, write a cover letter sharing information about yourself without indicating you are seeking to make a change. That way, if your letter ever reaches your current employer, your desire for a change will be less evident. For example, 'Dear Executive Recruiter, I do not believe I am in your database of electrical engineers. As part of my career maintenance, I am enclosing my current résumé. If I can ever assist you with referrals from my network, I would be delighted to help.'"
Schedule meetings in your free time. Whenever possible, arrange meetings and interviews at lunch breaks, after work hours, or on weekends. "This will help prevent inconvenient questions and unfavorable assumptions by your employer," observes Studner. "For out-of-town interviews, use your vacation time—preferably before dipping into sick days or family leave."
"All of this said, bear in mind that you don't absolutely, without question, have to keep a job search campaign confidential if you're currently employed," concludes Studner. "If you have a sympathetic, supportive boss and it's clear that you are in the wrong position, underemployed, or unhappy, you might discuss with him or her your desire to make a change. (Use your judgment—you probably have a good idea of how your boss will react to this news.) Indicate that you will stay to fully train your successor for a smooth transition and ask for your boss's support. He or she might even go out of his or her way to help you."
About the Author:
Peter K. Studner is the author of Super Job Search IV. He is a master career counselor and former chief executive and board member of companies in the United States, France, and Great Britain. He has helped thousands of people with their career transitions and trains other career professionals to deliver this easy-to-follow program.
To learn more, please visit www.SuperJobSearch.com.