Houston City Hall Candidates Filling Out Fall Ballot
Burt Levine | 3/5/2015, 4:30 p.m. | Updated on 3/5/2015, 4:30 p.m.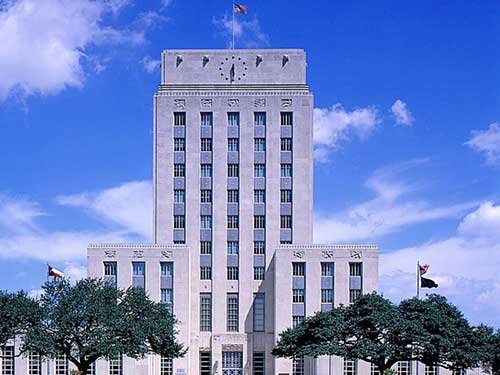 With Spring Break starting next week Houston City Hall candidates for mayor, city controller and city council are starting to file into Houston City Secretary Anna Russell's office to fill out the paper work naming their campaign treasurers as required by Texas law and the city charter before starting to campaign, fund raise and spend funds.
State Rep. Sylvester Turner named David Mincberg, Chairman and Chief Executive Officer of Flagship Properties Corporation, a Houston real estate investment firm, as his treasurer but more critical Mincberg is a former Harris County Democratic Party Chair. Turner, a baseball fan, has scheduled his official kick-off for his campaign to be Houston's next mayor for Saturday, March 28th at Minute Maid Field and has moved nearly $1million from his state legislator campaign account to a campaign account for mayor and is considered the frontrunner.
Former Houston City Council Member and one term Congress Member Chris Bell had a kick off for mayor recently and in some polls is second to Turner.
Former Kemah Mayor Bill King had announcements this past week in the Clear Lake area where he grew up and in other areas around the city to kick-off his campaign for Houston mayor. King is a Houston Chronicle columnist and recently served as the lead in one of the country's largest delinquent tax collection firms where he worked with Paula Arnold. Arnold, a former Houston ISD Trustee, is his treasurer.
Houston City Council Member Oliver Pennington is term limited and is enjoying spending his last year on city council campaigning for mayor across Kingwood, Clear Lake and west Houston touting his treasurer as former Republican National Committeewoman Penny Butler.
Former Houston City Attorney Ben Hall ran two years ago in what was considered by many among the worst campaigns in city history. Hall recently invested in KCOH radio ownership and in television and has had some signs put up in some areas. He named himself as his own treasurer and has pulled back on campaigning.
Houston businessman Marty McVey has filed. McVey lists former Democratic judge nominee Jason Luong as his treasurer.
Houston City Council Member Steve Costello has not filed a treasurer for mayor yet but has scheduled a March 12th fundraiser for mayor filled with fellow Republican philanthropists, public contractors and engineer vendors on the flyer.
Harris County Sheriff Adrian Garcia is expected to announce but when he does he is required to resign from being sheriff so his running remains a guessing game.
Former Houston City Council Member and current Houston Community College Trustee Carroll Robinson has filed Victor Cardenas as his treasurer in his run for city controller. Bill Frazer, CPA, also campaigning to be city controller, has filed David Acosta as his treasurer. Deputy City Controller Chris Brown has filed James Robertson as treasurer for his campaign to be city controller. Brown an MBA works for the term limited City Controller Ronald Green.
Filing to succeed term limited City Council Member Costello are Trebor Gordon, who ran two years ago for at large position 2, and Jennifer Renee Pool, who ran two years ago for at large position 3. Harris County Democratic Chair Lane Lewis has named Jewel McGowan, widow of Houston's first African American City Council Member, as his treasurer. Houston Community College Trustee Chris Oliver named Republican fundraiser Fred Zeidman as his treasure for at large position 1.
Former City Council Member Andrew Burks is expected to seek a re-match with now City Council Member David Robinson for at large position 2.
Michael Kubosh is currently unopposed for at large position 3 but at large position four, historically an African American seat, is crowded with business owner Laurie Robinson, retired teacher Larry Blackmon, lawyer Amanda Edwards and college student Atlas Kerr having filed treasurers.
Jan Clark has filed a treasurer to challenge Jack Christie for at large position 5 as is Durrell Douglas expected to do so this month.
Share this story online at www.stylemagazine.com.